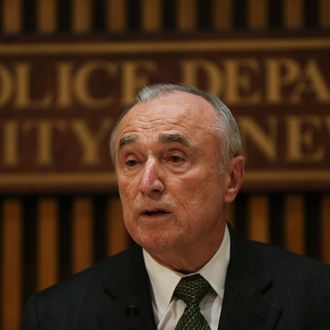 Photo: Spencer Platt/Getty Images
NYPD Commissioner William Bratton released a 41-page report today detailing the effect of Broken Windows policing on New York's crime rate. The report states that misdemeanor arrests "forestall felony crime" and attributes the controversial policing tactic to New York's reduced felony crime numbers.
According to the report's findings, "enforcement actions" — including ones for low-level crimes like fare beating and public urination — have also decreased in the first few months of 2015.
"The city, once the site of a tenth of the country's murders, now literally has less than its share. More than any other factor, what caused this amazing change was Broken Windows, or quality-of-life policing," reads the report.
Critics of Broken Windows disagree, arguing that it is a discriminatory policy that breeds ill-will between impoverished neighborhoods and the police.
The report comes in the midst of a debate over whether or not city council should decriminalize low-level offenses, issuing tickets instead of arresting offenders. Mayor Bill de Blasio has said he opposes decriminalizing fare beating, but hasn't offered an opinion on other specific offenses.