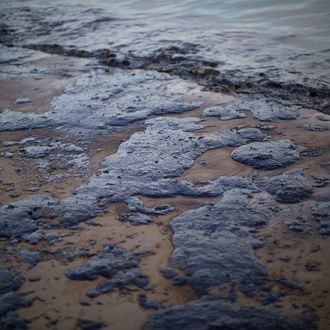 Photo: David McNew/Getty Images
A broken pipeline near Santa Barbara, California, has sent crude oil spreading through nine miles of water. Several locals saw sea lions swimming in the slick and tar washing up on beaches. The Coast Guard managed to stop the spill by 3 p.m. on Tuesday, but cleanup efforts are ongoing. Initial reports estimated that 21,000 gallons of oil may have spilled; that number has now inflated to a worst-case scenario of 105,000 gallons. 
"This is more than an inconvenience. This is just a disaster," Santa Barbara County Supervisor Doreen Farr told NBC News.
The oil spilled from an on-shore pipeline owned by Plains All American that broke and spilled into a storm drain. The company managed to apologize for the oil spill without ever uttering those exact words: "Plains deeply regrets this release has occurred and is making every effort to limit its environmental impact."
Local authorities aren't sure whether the beaches will be open for Memorial Day weekend, and several campgrounds have been emptied out.
In 1969, another oil spill near Santa Barbara was considered to be a "major factor in the birth of the modern-day environmental movement." About 200,000 gallons of oil spilled out of an offshore pipeline. The president of the company that owned the pipeline didn't quite understand the fuss. "I am amazed at the publicity for the loss of a few birds," he said. 
This post has been updated with additional information.