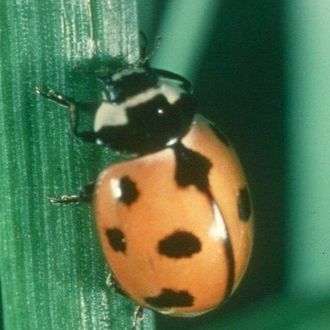 Photo: W. Louis Tedders (ARS, Retired)
Staff members at Chopticon High School in southern Maryland spent hours vacuuming up ladybugs last week after five people released 72,000 of them inside the school as a senior prank. 
Fun fact: You can apparently buy tens of thousands of ladybugs online, which is what these teens did before sharing their obviously not-so-great idea with the world.
Instead of bursting into laughter, the intended outcome of these sorts of high jinks, local police ended up charging the four juveniles suspected of taking part — all males — with burglary and other charges, including property destruction under $1,000 and disruption of school activities. Three of the people involved are over 18 — one suspect already graduated — and will receive criminal summons. The class president was one of the students involved. 
A teacher told the Washington Post that reactions among students ranged from "thought it was funny" to "felt bad for the bugs." A staff member said that those involved in the cleanup were pretty much unanimous in saying it "wasn't quite that funny."
According to Fox 5, students protested on Tuesday after learning classmates would be in legal trouble for their prank. One student held a sign that said, "If ladybugs are bad try our school lunch."
These Maryland teenagers were not the first people to have this brilliant idea. They were also not the first seniors to get in trouble after people failed to concur that this was a brilliant idea. In 2013, Vermont seniors released 20,000 ladybugs — or what the local police chief called "the martyrs" — in Randolph High School. The principal told the local newspaper, "My strong, strong understanding is that this wasn't done with any malicious intent at all. It was done as a senior prank — and it wasn't well thought through."