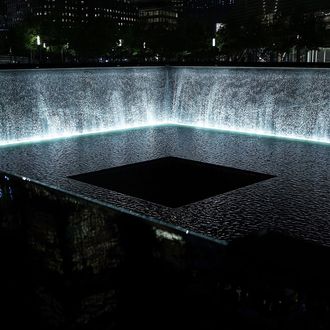 Photo: Spencer Platt/Getty Images
Visitors to the 9/11 Memorial got a little scare on Sunday afternoon, when the place was evacuated over concerns about an unusual, chlorine-ish smell coming from the plaza's two reflecting pools.
Following reports of the fumes, the FDNY moved everyone away from the memorial at around 2:10, and law enforcement and the Department of Environmental Protection rushed over to investigate.
Fortunately, it turns out there was nothing to worry about: The National 9/11 Memorial and Museum told the New York Daily News that the odor "was believed to be from decaying algae," while CBS 2 reported that "NYPD officials confirmed to CBS News that an excess of chemicals used to kill algae." Either way, whatever was going on with the algae was deemed non-threatening to humans, and the memorial reopened at 5 p.m., just in time for people in the area to enjoy the rest of their non-terrifying afternoon.