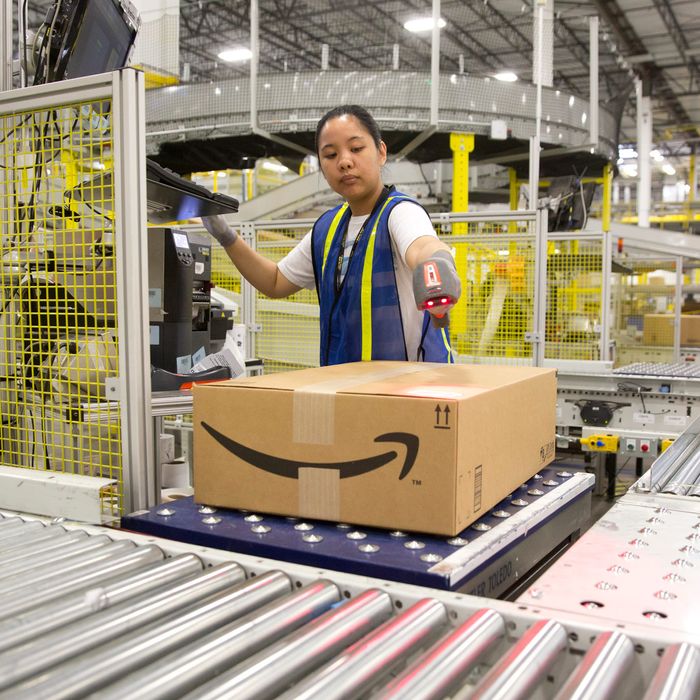 1.25 million square foot Amazon shipping center in Schertz, Texas.
Photo: Bob Daemmrich/Corbis
Like many lazy urbanites with a little disposable income, I use Amazon like a utility. The lights come on when I flip a switch. The water runs when I turn on the faucet. My dish soap and socks and teabags arrive at my front door at the push of a button.
That's thanks to Amazon, the undisputed king of online retail: As of 2013, its sales were as big as those of its next 12 competitors, combined. But lately the competition has been getting a lot more intense in the online-ordering, quick-delivery game, with Google and a whole host of start-ups entering the market. Among the most interesting is Jet.com, which has raised more than $200 million and is promising to undercut Amazon's prices by 10 or 15 percent.
But it's a big, established, rich player that has the most potential to cause Amazon some headaches. That's Walmart. And according to a report in the Information, the retail behemoth is finally ready to launch its Amazon killer, codenamed "Tahoe." The new service will reportedly have a subscription fee that's just $50, versus Amazon Prime's $99. That will buy you access to unlimited, free shipping on a million of Walmart's best-selling items, reportedly mostly home staples like dish soap and socks and tea bags.
Why would I be worried if I were an Amazon executive? Well, Walmart has a lot more capital to play with than any of those well-financed start-ups. The company's annual U.S. sales are about eight times as large as Amazon's, at a whopping $332 billion. It is spending more than a billion dollars on its e-ommerce upgrades, and it has plenty of room to undercut Amazon on price in order to boost its market share. Indeed, that's the model that it has used over and over and over again. And granted Walmart has struggled with its e-commerce business, delaying the long-awaited launch of Tahoe, but it's shown itself to be brilliant at bricks-and-mortar logistics. I expect it will also be brilliant at ecommerce logistics once it makes the right investments. 
Here's more detail about the company's online ramp-up:
Walmart recently announced plans to double the size of the workforce at its Global eCommerce division in Sunnyvale, Calif., which also includes video-on-demand and mobile shopping. The retailer opened three fulfillment centers last year, moving closer to its goal of delivering merchandise anywhere in the country within two days of being ordered online.
Of course, Amazon has a large number of other businesses to lean on, including web hosting, cloud computing, the Kindle, streaming video, and music downloads. It has ample resources to draw on in order to compete. And the convenience of using Amazon — particularly features like Subscribe & Save — might mean that its customer base will stick around, even if the prices are cheaper over at Jet.com and Walmart.com.
And even though online retailing is dominated by one player today, there's no reason to think that won't change. Amazon, Walmart, and other online retailers are competing for a market that's growing rapidly, not one that's stagnant and zero-sum. Americans still do most of their shopping at brick-and-mortar-stores, meaning in some ways Walmart will be competing with itself as much as its Seattle-based rival.
And one way or another, it will be consumers who will be the real winners in this vicious ecommerce showdown. (What a time it is to be a consumer!) More competition will mean yet lower prices, faster delivery, improved selection, and better perks for us lazy shoppers.