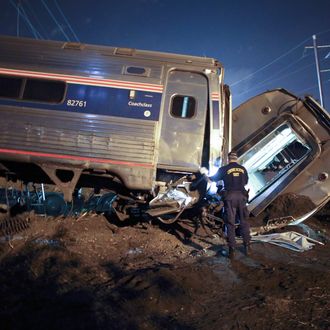 Photo: Joseph Kaczmarek/AP/Corbis
Full Amtrak service is expected to resume next Tuesday, and workers are working long hours to clean up the tracks around the site of this week's crash in time. All of the crushed railcars have finally been removed. 
Investigators have also been able to find out what the train was doing before the crash — even if they aren't sure quite why yet. It sped up before reaching the curve that sent it off the tracks, accelerating from 70 mph to more than 100 mph in less than a minute. The speed limit on that section of track was 50 mph. 
"Is that a rapid acceleration?" Robert Sumwalt, a National Transportation Safety Board member, told the Washington Post. "I think that's a subjective [characterization]. What's rapid? What's not rapid? I just lay the figures out there, let them stand on their own."
NBC News posted security camera footage of the crash — flashes of light are visible in the grainy video. A nearby resident told a reporter of the moment, "There was a big flash in the sky. It lit up the whole sky, can't describe the sound."
The engineer driving the train, Brandon Bostian, was supposed to speak to investigators on Friday. His lawyer has told the press that "As a result of his concussion, he has absolutely no recollection whatsoever of the events," although he expects his client's memory to recover. Bostian has said that he had not used drugs or alcohol prior to the crash. Investigators have obtained a warrant for his cellphone records, according to the Philadelphia Inquirer, to find out if he had been using it, instead of keeping it stowed away as required. NTSB officials currently don't believe the train was crashed deliberately. The Philadelphia district attorney's office is conducting a separate investigation into the accident. 
One of Bostian's childhood friends told the New York Times, "When you heard the name Brandon Bostian, the first thing you would think is trains. His walls were covered with pictures; he had several model sets. Sometimes we'd just go down to the tracks that ran through town and watch trains and shoot the breeze." 
Joseph Boardman, the president and CEO of Amtrak, wrote on the company's blog on Thursday that "Amtrak takes full responsibility and deeply apologizes for our role in this tragic event." Amtrak employee Bruce Phillips became the first person on the train to file a lawsuit against Amtrak. He is suing Amtrak for at least $150,000, citing "loss and impairment of earnings and earning power," and the "great physical pain and mental anguish" he went through. The Inquirer says that Amtrak will likely face hundreds of millions of dollars in claims, although the 1997 Amtrak Reform and Accountability Act limits the amount the government pays out per train derailment to $200 million — a sum that will probably be far smaller than the claims filed. 
Twenty-year-old Justin Zemser was the first victim to have a funeral; it was held on Long Island this morning. A student who remembered Zemser from high school told reporters outside the church about the U.S. Naval Academy student. "He put everyone before himself … He just cared about other people instead of his own life. If he could save anyone on that train, I know he would have."
Six passengers are still in critical condition in Philadelphia hospitals.