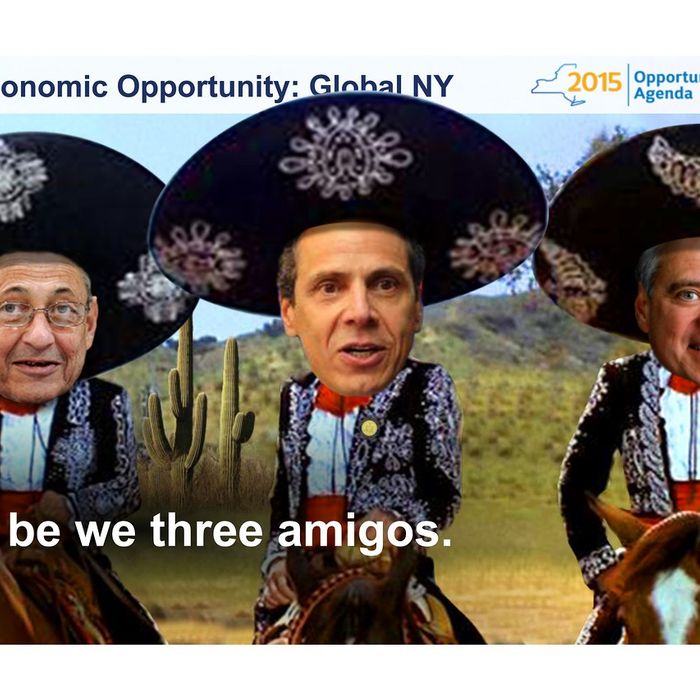 This image featuring Sheldon Silver, Cuomo, and Dean Skelos was part of the governor's State of the State Powerpoint presentation..
Four months of Albany scandal and turmoil have yielded new leaders of the state Assembly and Senate — the first time that's happened during the same legislative session in 50 years. In February, Carl Heastie took over as speaker of the Assembly, and on Monday, John Flanagan became majority leader of the Senate.
So is that good or bad for the only guy who still has the same job, Governor Andrew Cuomo?
On one level, the new configuration could be a boon to Cuomo — because it's so similar to the old configuration that served Cuomo well in the past. Shelly Silver, a lower Manhattan liberal Democrat, was replaced by Heastie, a Bronx liberal Democrat. Dean Skelos, a moderate Long Island Republican, was replaced by Flanagan, a moderate Long Island Republican.
Neither Heastie nor Flanagan is a pushover. And each now needs to contend with a restive caucus. But they are both more naturally cooperative and less combative than the respective runners-up, Cathy Nolan and John DeFrancisco. "With the Republicans, Cuomo preferred the moderate status quo instead of the tack to the right that De Francisco would have been," an Albany insider says. "And De Francisco is abrupt and demanding. It would have been confrontational between him and Cuomo."
But it will be difficult for Cuomo to replicate his first-term success with the new men in the old roles. One reason is that he's being increasingly called out for moving the pieces around the legislative chess board. Progressives have long accused Cuomo of disingenuously propping up the Senate Republican majority so he can use it as a convenient excuse — a buffer against having both legislative houses controlled by left-of-center Democrats — pointing to maneuvers like his 2012 deal with Skelos on a redistricting plan that gerrymandered districts in favor of the GOP. "As long as Cuomo's got the Senate Republicans, all these progressive things that he claims he wants — the DREAM Act, public campaign financing — he can say, 'Oh, it's too bad they won't do it,'" one elected official says. "But the curtain is starting to be pulled back a little bit."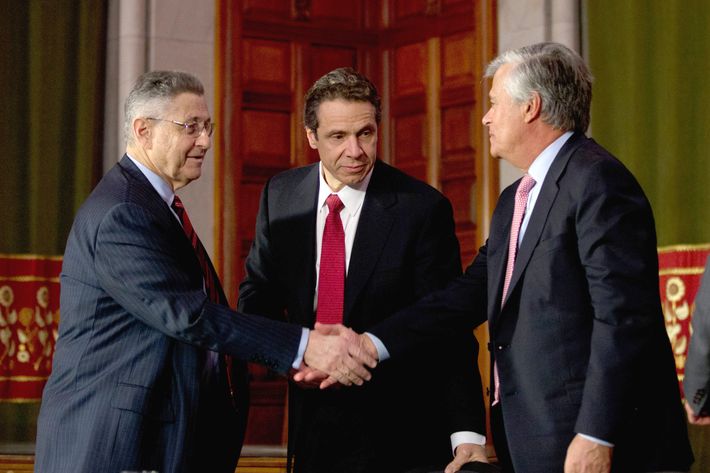 Cuomo denies any meddling. "I have nothing to do with that," the governor said placidly last week after an event in Union Square, when asked about trying to sway the legislative leadership decisions. "I see my job as working with whoever they send me."
You can't blame him for trying to construct a favorable legislative landscape — that's good politics. The trouble is when Cuomo comes off as disingenuous. On Wednesday, De Francisco was blunt about the governor's stealthy influence on behalf of Flanagan. "Oh, definitely he made calls, definitely, no doubt about it," he told Capital Tonight. "He can do whatever he wants — but be honest about it."
Which points to the larger problem for Cuomo: Trying to keep his distance from the legislature and dominate it at the same time is becoming an untenable straddle. One sign of his predicament was a poll this week clocking Cuomo's job approval at 37 percent, his lowest rating in five years. The public doesn't much care about the details of the legislative infighting — but it increasingly identifies state government's top figure with Albany's recurring corruption mess.
Maybe with Heastie and Flanagan now in place and Albany settling into a kind of stunned calm, the governor can use his old playbook to deliver a smooth final four weeks of the spring legislative session. But he and everyone else in Albany can't wait to get out of town for the summer. Cuomo will spend part of that time helping his partner, Sandra Lee, recover from breast-cancer surgery. As personally painful as that will be, it may prove easier than constructing a political recovery.
Andrew Cuomo: The Last of the Three Amigos
Things you buy through our links may earn Vox Media a commission.