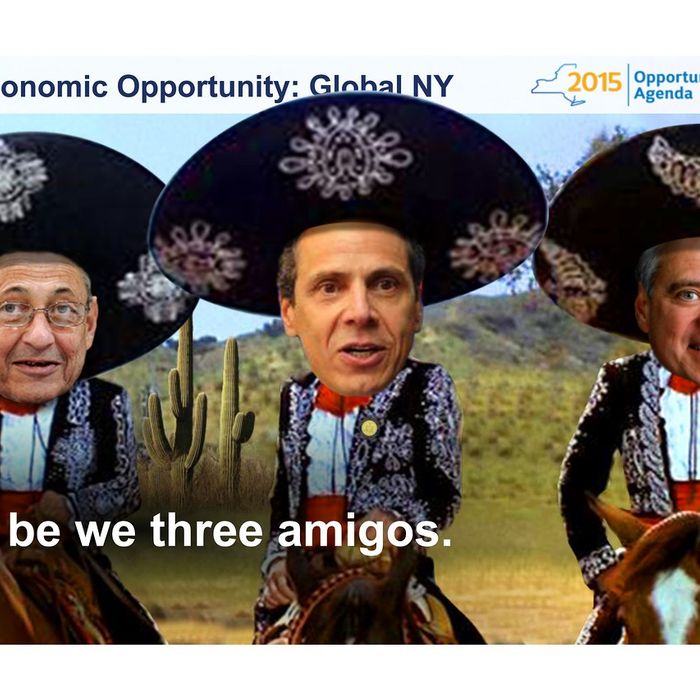 This image featuring Sheldon Silver, Cuomo, and Dean Skelos was part of the governor's State of the State Powerpoint presentation..
Four months of Albany scandal and turmoil have yielded new leaders of the state Assembly and Senate — the first time that's happened during the same legislative session in 50 years. In February, Carl Heastie took over as speaker of the Assembly, and on Monday, John Flanagan became majority leader of the Senate.
So is that good or bad for the only guy who still has the same job, Governor Andrew Cuomo?
On one level, the new configuration could be a boon to Cuomo — because it's so similar to the old configuration that served Cuomo well in the past. Shelly Silver, a lower Manhattan liberal Democrat, was replaced by Heastie, a Bronx liberal Democrat. Dean Skelos, a moderate Long Island Republican, was replaced by Flanagan, a moderate Long Island Republican.
Neither Heastie nor Flanagan is a pushover. And each now needs to contend with a restive caucus. But they are both more naturally cooperative and less combative than the respective runners-up, Cathy Nolan and John DeFrancisco. "With the Republicans, Cuomo preferred the moderate status quo instead of the tack to the right that De Francisco would have been," an Albany insider says. "And De Francisco is abrupt and demanding. It would have been confrontational between him and Cuomo."
But it will be difficult for Cuomo to replicate his first-term success with the new men in the old roles. One reason is that he's being increasingly called out for moving the pieces around the legislative chess board. Progressives have long accused Cuomo of disingenuously propping up the Senate Republican majority so he can use it as a convenient excuse — a buffer against having both legislative houses controlled by left-of-center Democrats — pointing to maneuvers like his 2012 deal with Skelos on a redistricting plan that gerrymandered districts in favor of the GOP. "As long as Cuomo's got the Senate Republicans, all these progressive things that he claims he wants — the DREAM Act, public campaign financing — he can say, 'Oh, it's too bad they won't do it,'" one elected official says. "But the curtain is starting to be pulled back a little bit."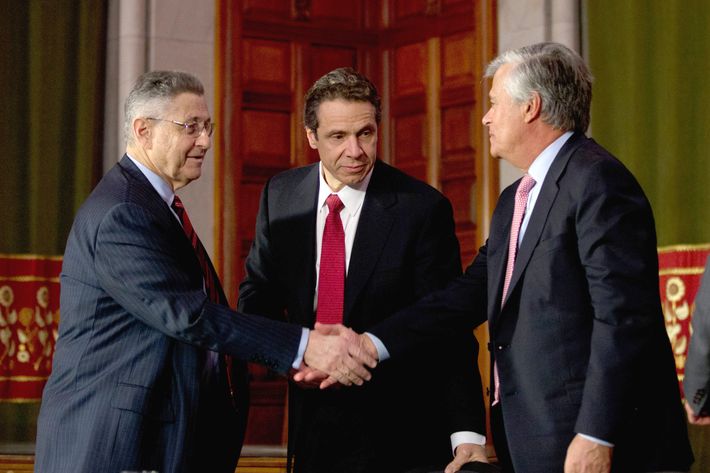 Cuomo denies any meddling. "I have nothing to do with that," the governor said placidly last week after an event in Union Square, when asked about trying to sway the legislative leadership decisions. "I see my job as working with whoever they send me."
You can't blame him for trying to construct a favorable legislative landscape — that's good politics. The trouble is when Cuomo comes off as disingenuous. On Wednesday, De Francisco was blunt about the governor's stealthy influence on behalf of Flanagan. "Oh, definitely he made calls, definitely, no doubt about it," he told Capital Tonight. "He can do whatever he wants — but be honest about it."
Which points to the larger problem for Cuomo: Trying to keep his distance from the legislature and dominate it at the same time is becoming an untenable straddle. One sign of his predicament was a poll this week clocking Cuomo's job approval at 37 percent, his lowest rating in five years. The public doesn't much care about the details of the legislative infighting — but it increasingly identifies state government's top figure with Albany's recurring corruption mess.
Maybe with Heastie and Flanagan now in place and Albany settling into a kind of stunned calm, the governor can use his old playbook to deliver a smooth final four weeks of the spring legislative session. But he and everyone else in Albany can't wait to get out of town for the summer. Cuomo will spend part of that time helping his partner, Sandra Lee, recover from breast-cancer surgery. As personally painful as that will be, it may prove easier than constructing a political recovery.
Andrew Cuomo: The Last of the Three Amigos
THE FEED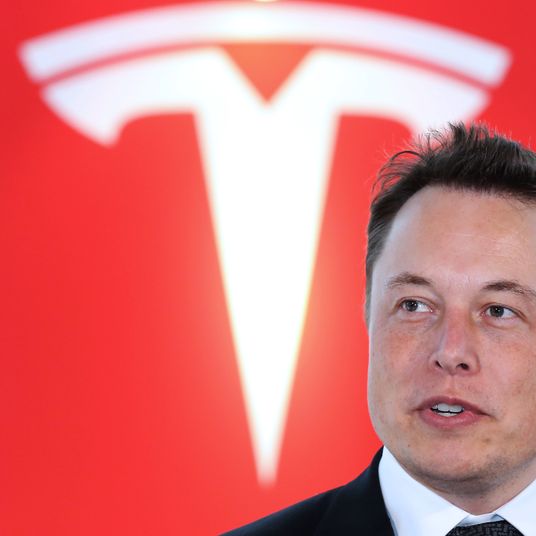 cryptocurrencies
Bitcoin Price Dives After Elon Musk Announces Tesla No Longer Accepts It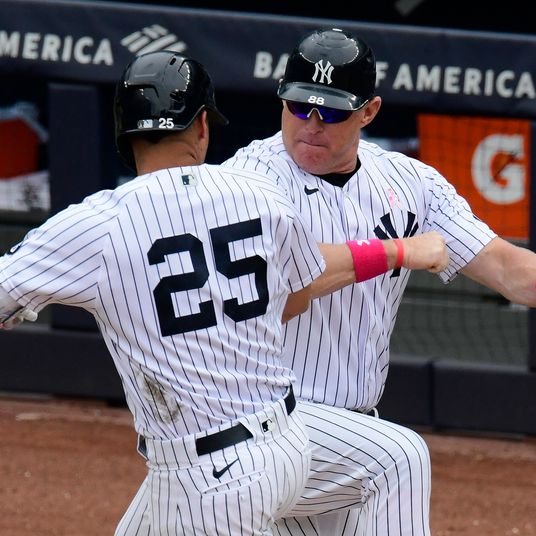 mlb
New York Yankees Somehow Have Seven COVID Cases in Vaccinated Staff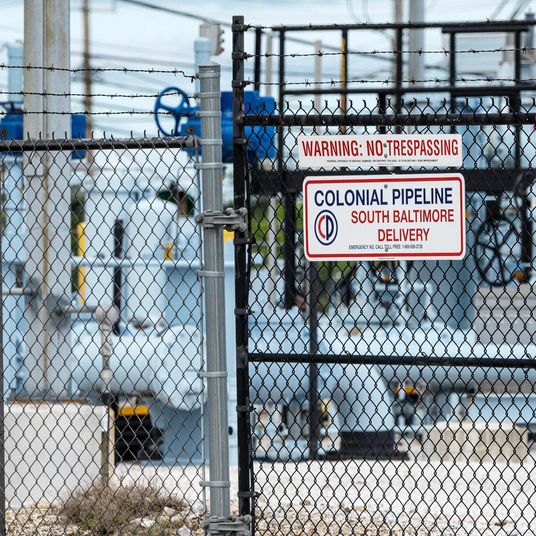 explainer
What We Know About the Colonial Pipeline Shutdown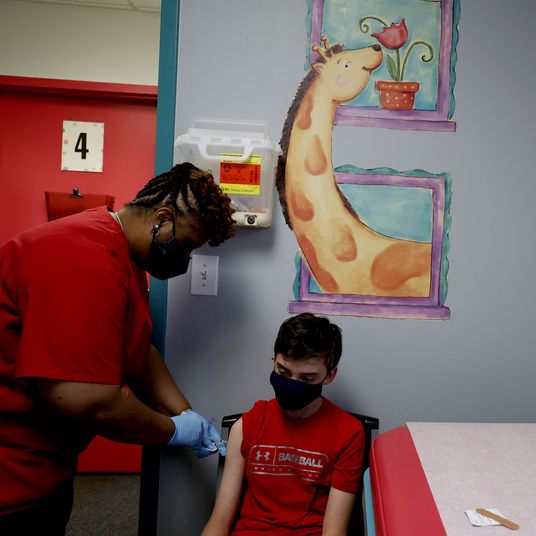 coronavirus vaccine
CDC Advisory Panel Clears Pfizer Shot for 12-to-15-Year-Olds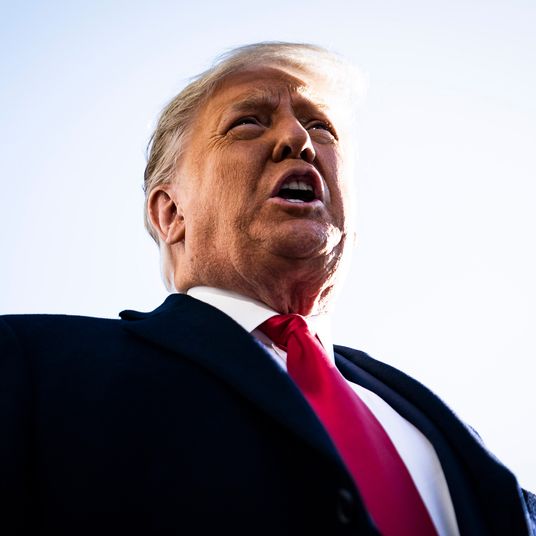 intelligencer chats
How Long Can Trump's GOP Stranglehold Last?
Sure beats Manchin not backing any voting rights reform bill
Sen. Joe Manchin is breaking with Democrats and throwing his weight behind a more measured voting rights bill in lieu of the sweeping Democratic voting reform bill that Majority Leader Chuck Schumer has labeled a top priority of the caucus.
The Democrat from West Virginia told ABC News exclusively that he intends to support the John Lewis Voting Rights Act, a more narrowly tailored piece of voting rights legislation that he said he believes could muster bipartisan support even as voting legislation is becoming a flash point between the two parties.
"I believe Democrats and Republicans feel very strongly about protecting the ballot boxes allowing people to protect the right to vote making it accessible making it fair and making it secure and the John Lewis Voting Rights Act, if we apply that to all 50 states and territories, it's something that can be done – it should be done," Manchin told ABC News' Rachel Scott. "It could be done bipartisan to start getting confidence back in our system."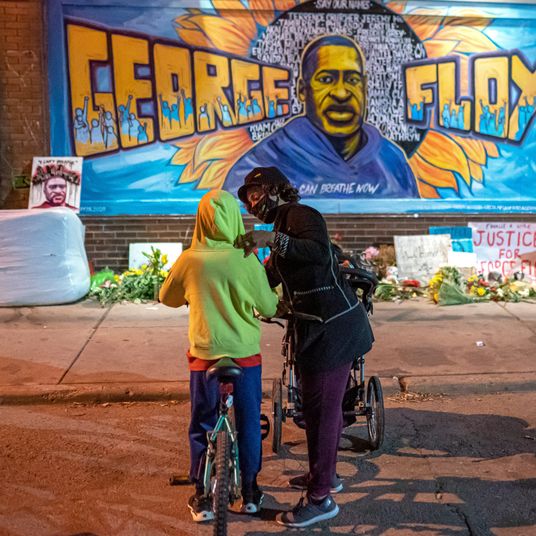 crime
What Happens Next After the Derek Chauvin Verdict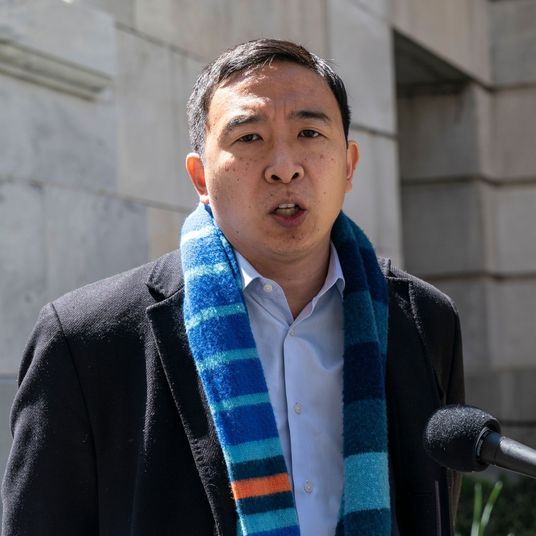 politics
Andrew Yang Attempts to Clean Up Controversy Over Pro-Israel Tweet
"I don't think anybody is questioning the legitimacy of the presidential election," McCarthy says
—
@burgessev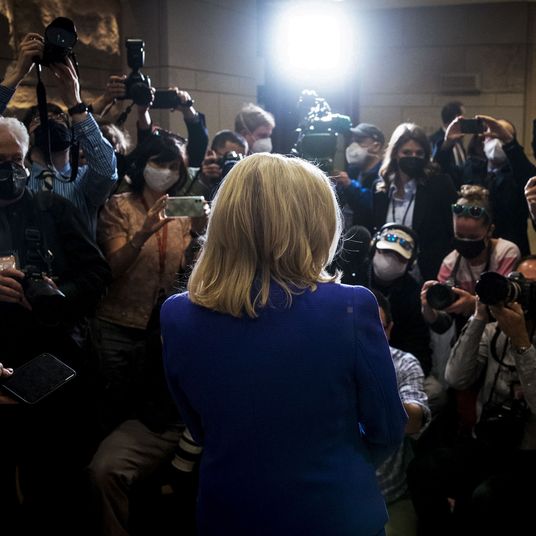 politics
Liz Cheney Meets Her Fate in a Capitol Basement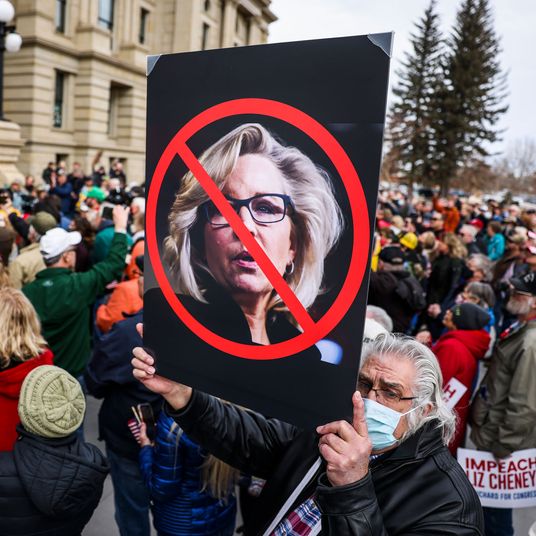 the national interest
House Republicans Purge Liz Cheney and Join Trump's War on Democracy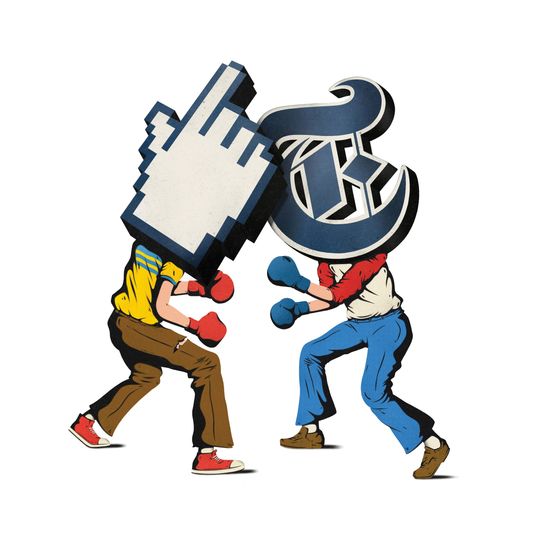 media
Inside the Nasty Battle Between Tech and Journalism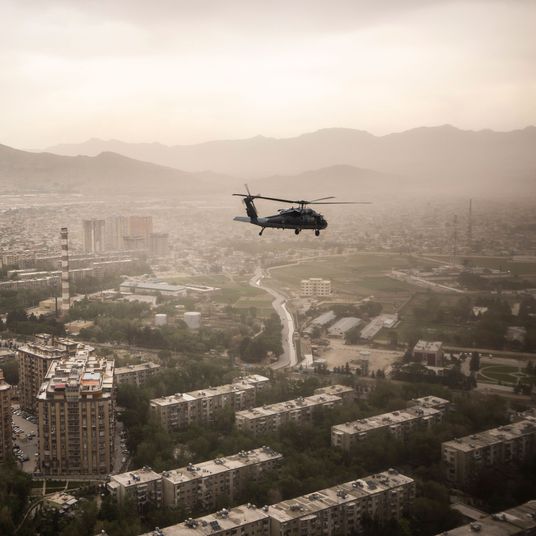 politics
U.S. Is Leaving Afghanistan? Tell That to the Contractors.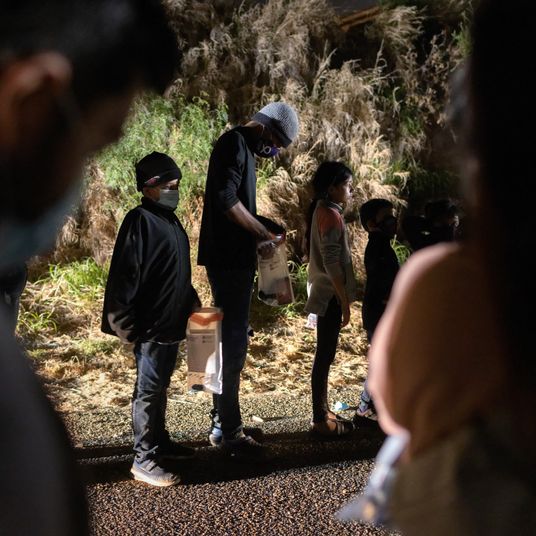 immigration
Unaccompanied Child Migrant Arrivals Decreased in April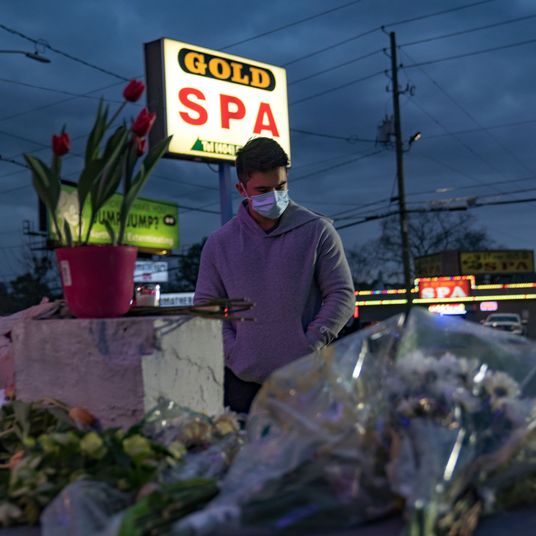 crime
Death Penalty, Hate-Crime Charges Sought in Atlanta Spa Shootings
The NRA is dealt a major blow in court
A federal judge on Tuesday dismissed the National Rifle Association's bankruptcy case, leaving the powerful gun-rights group to face a New York state lawsuit that accuses it of financial abuses and aims to put it out of business.
The case was over whether the NRA should be allowed to incorporate in Texas instead of New York, where the state is suing in an effort to disband the group. Though headquartered in Virginia, the NRA was chartered as a nonprofit in New York in 1871 and is incorporated in the state.
Judge Harlin Hale said in a written order that he was dismissing the case because he found the bankruptcy was not filed in good faith.
politics
The Return of the Welfare Queen Myth
discount shopping
There Are Only 7 Homes in New York City Under $100,000
nyc mayoral race
If Only Mayoral Candidates Set Brooklyn Home Prices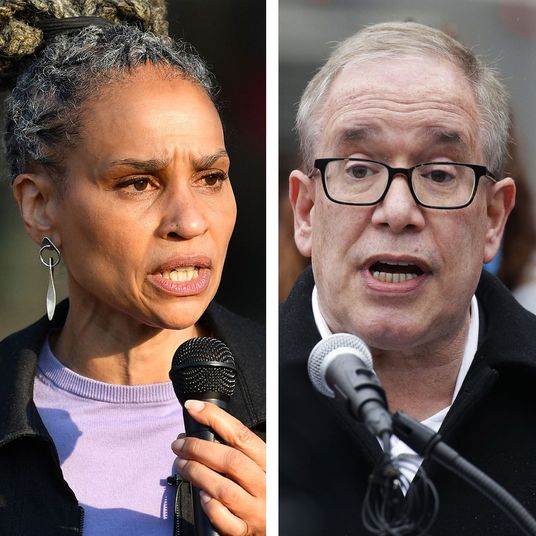 nyc mayoral race
All the Endorsements in the NYC Mayoral Race
elon musk
Hosting SNL Was a Huge Win for Elon Musk
2021 elections
MAGA + Money Wins Virginia's GOP Gubernatorial Race
the national interest
Liz Cheney's Liberal Critics Are Missing the Point
games
States Are Starting to Fix the NCAA — For the Wrong Reasons
cityscape
New York's First Climate Adaptation Battle Is Here
encounter
Litquidity Capital Is the Meme King of Wall Street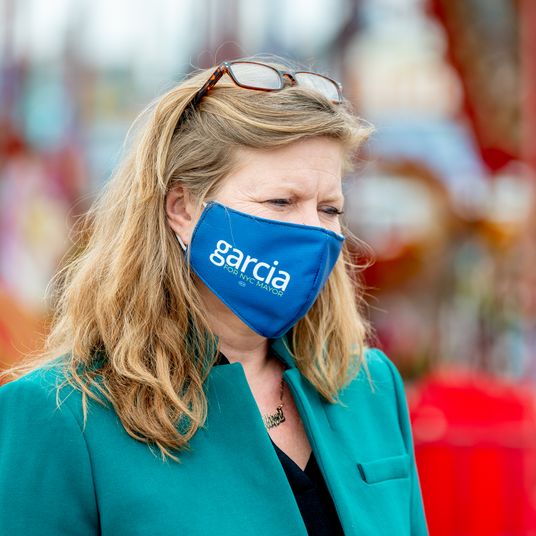 nyc mayoral race
New York Newspapers Weigh In With Endorsements for Mayor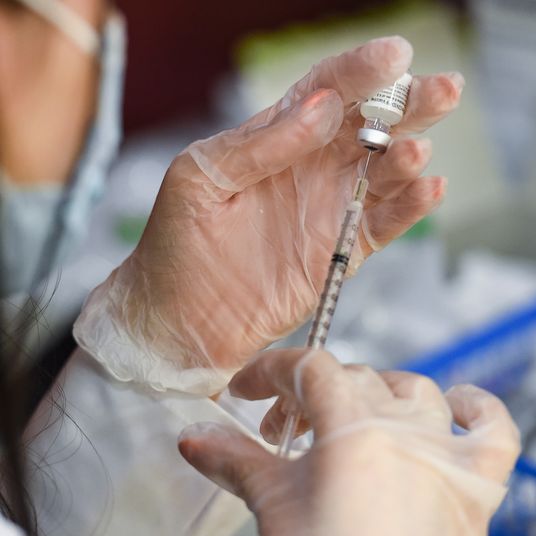 coronavirus vaccine
FDA Authorizes Use of Pfizer Vaccine for Children 12 to 15