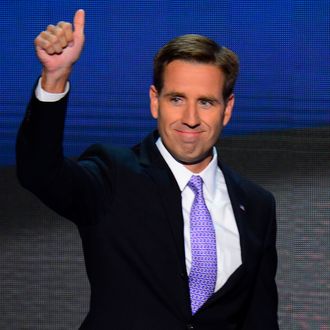 Beau Biden speaks at the 2012 Democratic National Convention.
Photo: Harry E. Walker/MCT via Getty Images/2012 MCT
Beau Biden, Joe Biden's oldest son, has suffered a number of health problems in recent years, and on Tuesday the vice-president's office said he's undergoing treatment at Water Reed National Military Medical Center. There have been no updates on his condition, but a source told CNN the situation is "serious." Biden, 46, suffered a mild stroke in 2010 and underwent surgery in 2013 to remove a "small lesion" from his brain. He served two terms as Delaware's attorney general and said last year that he would run for governor in 2016, but The Wall Street Journal reports his recent lack of public appearances sparked questions about his health and the campaign.