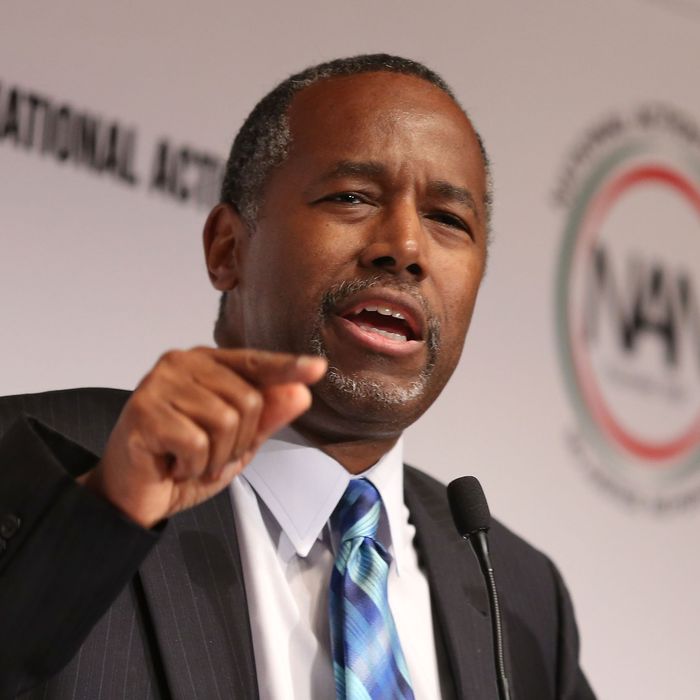 Dr. Ben Carson speaks on day 1 of the National Action Network 2015 Convention at Sheraton New York Times Square on April 8, 2015 in New York City.
Photo: J. Countess/Getty Images
Dr. Ben Carson is a unique figure in the 2016 field for a number of reasons: He's never run for elected office, he's likely to be the only high-profile African-American candidate, and he's almost certainly the only presidential contender who's been portrayed in a film by Cuba Gooding Jr. Now he can add "first person to accidentally declare his candidacy" to that list. In a video interview posted by Cincinnati TV station WKRC on Sunday night, Carson revealed, "I'm willing to be a part of the equation, and, therefore, I'm announcing my candidacy for president of the United States." Politico reports that the spot was a pre-interview meant to be released tomorrow, around the time of his kickoff event in his hometown of Detroit.
He made the admission to Politico while rehearsing for tomorrow's event at the Detroit Music Hall. "We probably wouldn't be doing all this if we weren't" running, Carson said. His wife, Candy Carson, added, "I think the country is probably more excited than we are."
For 29 years, Carson was the head of the pediatric neurosurgery unit of Johns Hopkins Children's Center in Baltimore, and he directed the first surgery to separate twins conjoined at the back of the head, according to the AP. He first generated excitement among conservatives at the 2013 National Prayer Breakfast, where he criticized the Affordable Care Act and compared the U.S. to ancient Rome with President Obama sitting just a few feet away. Recent polls have put him in the middle of the GOP's 2016 field, ahead of experienced politicians like Rick Perry, Rick Santorum, and Bobby Jindal.
Outside of Republican circles, he's perhaps best known for his inflammatory remarks on topics ranging from selfies to ISIS. He has compared the U.S government to Nazi Germany, called Obamacare the worst thing to happen to the country since slavery, and described homosexuality as a choice, explaining, "A lot of people who go into prison straight, and when they come out they're gay."
Carson told WKRC that these experiences have taught him not to delve into such controversial topics. "I don't wander off into those extraneous areas that can be exploited," he said. "I have learned that." All he has to do is avoid being asked any tricky questions in the next year and a half.