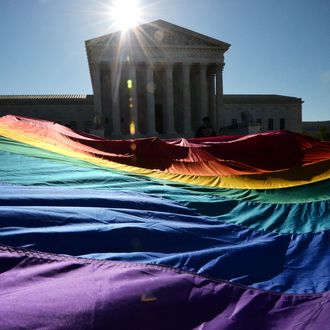 Photo: Mladen Antonov/AFP/Getty Images
On Wednesday, Vice President Joe Biden quoted William Butler Yeats when discussing Ireland's decision to legalize same-sex marriage in The Advocate: "Do not wait to strike till the iron is hot, but make it hot by striking." The adage is one Biden has taken to heart before on this issue; the White House didn't announce its support for same-sex marriage until after Biden surprised everyone by saying he did in 2012. 
Biden, who is Irish Catholic, quickly pivoted from Ireland to the United States, which is waiting to hear what the Supreme Court has to say about same-sex marriage next month. 
There is still work to be done," he wrote in the LGBT magazine. "There are still too many nations that deny people even the right to be safe from violence and severe discrimination, and too many states here in America that allow a person to be fired simply for being lesbian, gay, transgender, or bisexual. But the progress is undeniable. … I continue to believe that in every corner of the world, people want to do the right thing. "
In an ABC News/Washington Post poll from last month, a record-high 61 percent of Americans said they supported same-sex marriage. More recent polls have showed the same trend.