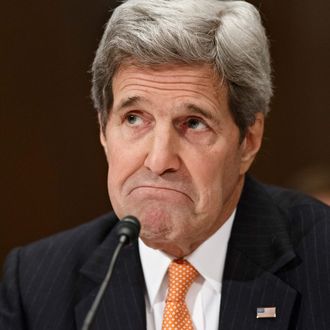 Photo: J. Scott Applewhite/AP
Secretary of State John Kerry broke his leg in a cycling accident Sunday, bringing an abrupt end to his trip to Europe. The New York Times reports that Kerry was riding his bike near the French town of Scionzier — he was trying out part of the Tour de France route — when he hit a curb and fell. He was brought by helicopter to a hospital in Geneva and is now headed home to Boston for treatment.
Here's the official lowdown:
"Secretary Kerry broke his right femur in a bicycling accident this morning in Scionzier, France," John Kirby, the State Department spokesman, said in a statement. "Given the injury is near the site of his prior hip surgery, he will return to Boston today to seek treatment at Massachusetts General Hospital with his doctor who did the prior surgery."
Kerry had been scheduled to make an official visit to Madrid before flying to Paris for a meeting about ISIS. (He now intends to participate in the Paris discussion via video conference.) Kirby added that Kerry was "grateful to the French and Swiss authorities, doctors and nurses who assisted him after the accident," while the Washington Post reports that a French official described the secretary of State as "calm" and "brave." It's a good thing this happened in Europe, as opposed to some place where everyone is not completely in love with Kerry.