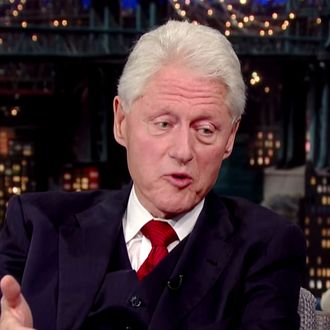 Potential First Man Bill Clinton appeared on The Late Show last night, and Letterman just had to ask: What are the chances he'll move back into the White House?
Bill and his sax heading back to 1600 Pennsylvania Avenue, of course, is contingent upon a few things: that Hillary wins the primary, that Hillary wins the election — and that Hillary offers to let him live with her.
"If she wins the election, the chances are 100 percent that I'll move back," Clinton told Letterman. "By the way, if I'm asked!"
There's that First Man spirit.