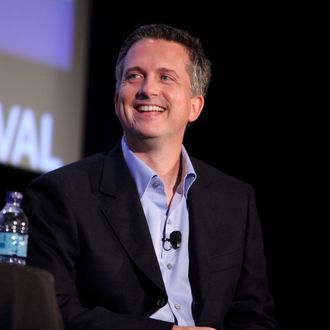 Photo: Amy Sussman/2010 Getty Images
The New York Times reported on Friday that ESPN will not renew its contract with Bill Simmons, who has been with the company for nearly 15 years and started Grantland. His contract expires in September. The sparse statement made by ESPN president John Skipper hints at how fractious the contract negotiations might have been. 
>
I decided today that we are not going to renew Bill Simmons' contract. We have been in negotiations and it was clear it was time to move on.
He added that Simmons "has produced great content for us for many years and ESPN has provided him many new opportunities to spread his wings." Regarding the future of Grantland, Skipper said that the website "long ago went from being a Bill Simmons site to one that can stand on its own." 
Last September, ESPN suspended Simmons for three weeks after he called NFL Commissioner Roger Goodell a "liar" on his "B.S. Report" podcast. He followed up his statement by saying, "I really hope somebody calls me or emails me and says I'm in trouble for anything I say about Roger Goodell. Because if one person says that to me, I'm going public. You leave me alone. The commissioner's a liar and I get to talk about that on my podcast. Thank you. … Please call me and say I'm in trouble. I dare you."
Skipper said that the incident was not a factor in his decision.
In the 2011 book Those Guys Have All the Fun: Inside the World of ESPN, Simmons spoke about what would happen if he ever left ESPN. "I am not afraid to leave," he said. "If it happens, I will kill myself trying to haunt them somewhere else."