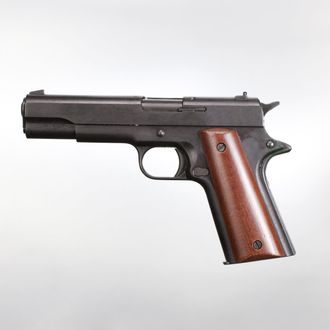 Step 1: Don't leave this in the bathroom.
Photo: Martin Barraud/Getty Images
"We are now providing additional training on what to do when you have to go to the bathroom," Capitol Police Chief Kim Dine promised Congress yesterday.
It may seem silly, but the people protecting our lawmakers could use some pointers on how to safely relieve themselves without leaving loaded Glocks behind for 7-year-olds to find. A report earlier this month revealed that at least three Capitol Police officers — some of whom are still protecting GOP leadership — had left weapons behind in the bathroom, sometimes stuck in toilet seat cover holders. 
Representative Candice Miller told Dine that she understands Capitol Police's plight. "Everyone has to go to the bathroom." 
Dine said that the additional training would be put online, and that officers would need to retake it every year so that they never forget how to go to the bathroom correctly ever again. If those creating the curriculum need some ideas for the syllabus, Parents magazine has a list of books that provide "a dose of humor, instruction, and inspiration to move the potty training process along."