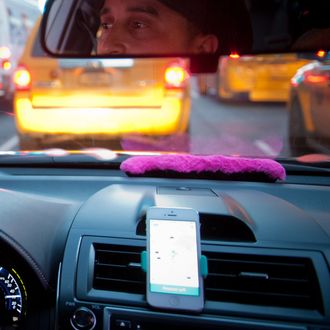 Photo: Bryan Smith/ZUMA Wire/Corbis
Carl Icahn, the activist billionaire best known for buying a bunch of shares in public companies and pushing boards to make changes that benefit investors, has invested $100 million in a privately held start-up best known for not being Uber. Ride-sharing service Lyft is valued at $2.5 billion, while Uber is valued at more than $40 billion. Icahn's net worth is around $22 billion.
Or, as The Wall Street Journal summed up the story, "For once, a company is excited about adding Carl Icahn as a shareholder."
Icahn told the Journal that Lyft, which lost the pink fuzzy mustaches that made the company's drivers instantly noticeable — if also a little silly — earlier this year, is "a tremendous bargain," and said to the New York Times, "There's room for two in this area."
Marc Andreessen, the venture capitalist described in The New Yorker this week as being "forty-three years old and six feet five inches tall, with a cranium so large, bald, and oblong that you can't help but think of words like 'jumbo' and 'Grade A,'" is also a big investor in Lyft. He and Icahn have not gotten along in the past. In previous interviews, Icahn has said that Andreessen has "screwed more people than Casanova," while Andreessen has called Icahn "an evil Captain Kirk" whose "inner six-year-old" has a tendency of coming out.  
However, they appear to be making nice for the sake of the underdog app they're both rooting for. Icahn told the Times today, "I never said he wasn't a smart guy," while Andreessen told the Journal, "All's fair in love, war and ride-sharing."