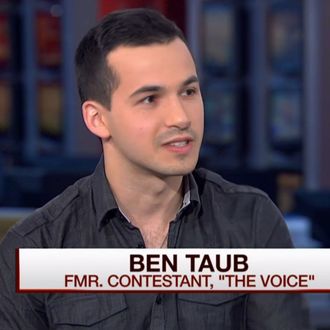 (and current New Yorker contributor.)
This week's issue of The New Yorker features a story about teenagers who join ISIS. The article was written by 24-year-old Ben Taub, who has never written for the magazine before and just graduated from Columbia Journalism School last week. 
In case you still thought Taub's résumé looked a little thin, he also appeared on The Voice, where he sang on Cee Lo Green's team and discovered a new way to fund journalism in the 21st century. Taub used the stipend NBC gave contestants during the show's taping to pay for a trip to the Syrian border, which helped launch his switch to journalism.* A year later, he visited the border again and met one of the people crucial to his New Yorker story.
Taub went on Morning Joe this morning to discuss his story and confessed that he first became interested in Middle Eastern politics after he "chased a girlfriend to Cairo during the Egyptian revolution." 
To summarize, we have learned in the past decade that going on reality television can help one become a congressional candidate, a member of Congress, an Oscar winner, and, now, a New Yorker writer. 
*This post has been corrected to show that Taub's first trip to the Syrian border did not directly relate to his New Yorker story. He returned to the area with help from Columbia University, Princeton University, and the New Yorker.