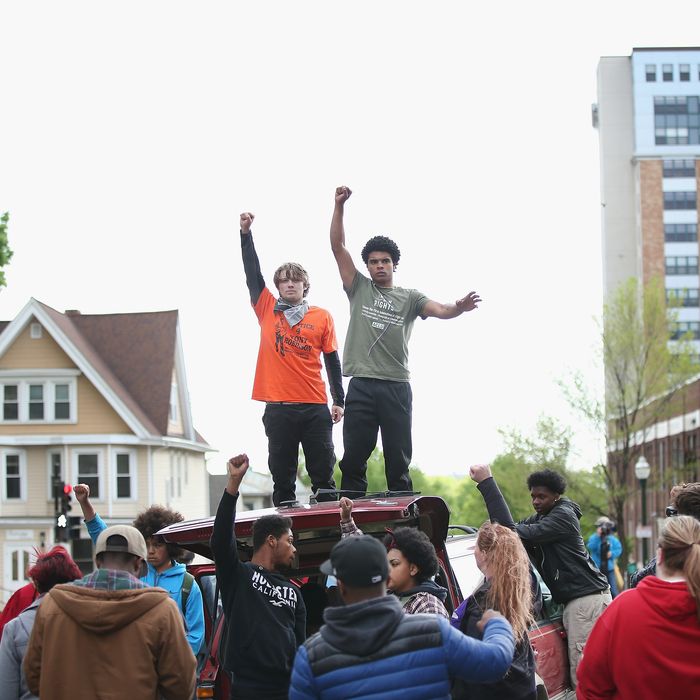 Demonstrators take to the streets in protest after Dane County District Attorney Ismael Ozanne annoncement on May 12, 2015 in Madison, Wisconsin.
Photo: Scott Olson/Getty Images
There will be no charges filed against a Madison, Wisconsin, police officer who shot and killed an unarmed biracial teenager two months ago, sparking large protests in the city. The officer, 12-year veteran Matt Kenny, was cleared of any wrongdoing by Dane County District Attorney Ismael Ozanne, who concluded that 19-year-old Tony Robinson Jr.'s "tragic and unfortunate death was the result of a lawful use of deadly police force and that no charges should be brought against Officer Kenny." An emphatic Ozanne, who noted that he's the first black district attorney to ever serve in Wisconsin, also remarked, "My decision will not bring Tony Robinson Jr. back. My decision will not end the racial disparities that exist in the justice system, in our justice system. My decision is not based on emotion. Rather, this decision is based on the facts as they have been reported to me."
According to Wisconsin's Justice Department, those facts are that on March 6 Madison police responded to multiple calls about a man causing a traffic disturbance as well as assaulting others. Officer Kenny pursued the suspect, Robinson, to a nearby apartment. Hearing a disturbance inside, Kenny then entered the residence, where he says he was assaulted by Robinson. "He indicated he was worried he would be struck again and lose consciousness," and was afraid Robinson would take his gun, according to Ozanne, so the officer shot him. When asked why he couldn't use nonlethal force, Kenny said it was due to "space and time considerations." The state also reports that toxicology indicated Robinson was high on psychedelic mushrooms and other drugs, which may have accounted for his erratic behavior.
Robinson's mother, who thinks police have tried to smear her son, isn't satisfied with the results of the investigation or District Attorney Ozanne's decision, but she's not surprised either. "They could have done a lot. What they didn't do was give my son any respect," she said.
When the news of Robinson's death was first reported back in March, it led to peaceful protests under the "Black Lives Matter" banner. Multiple reports allege that Dane County has a serious and pervasive problem with racial disparity in policing and incarceration. Many feared that Tuesday's announcement would lead to violent demonstrations, like those in Baltimore and Ferguson, Missouri. On his blog, Madison police chief Michael Koval said he hoped those upset over the ruling would "take the higher road," but also sought to acknowledge the systemic problems that fuel outrage against the police among minority communities:
I am not going to absolve law enforcement for whatever role we have played in being complicit in the calculus of racial disparities.  Given this sobering backdrop, one can understand why there is a sense of hopelessness and desperation with those who have not enjoyed (or even had the same access to) all of the opportunities that many of us take for granted.
Protests in response to yesterday's announcement were peaceful. One resident, a friend of Robinson's since the fifth grade, said he knew going out to "break stuff" wouldn't accomplish anything, and Madison would "do this the right way."