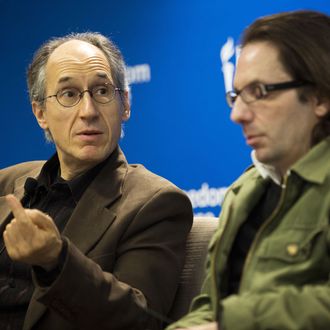 Photo: Andrew Caballero-Reynolds/AFP/Getty Images
Sunday night's shooting at the art show in Garland, Texas, restarted many of the same debates about free speech and the dangers of cross-cultural provocations that took place in the wake of the Charlie Hebdo massacre in January. But in a discussion today, the French satirical magazine's editor-in-chief Gérard Biard and its film critic Jean-Baptiste Thoret distanced themselves from the cartoon exhibit and its organizer, Pamela Geller.
Speaking with Suzanne Nossel, the executive director of PEN American Center, the Charlie Hebdo pair stressed that their job was to start a global debate while those hosting the Garland show simply aimed to provoke.
"Comparing this Pamela Geller thing and Charlie Hebdo is nonsense," Thoret said. "It's an anti-Islamic movement, and she said it's an anti-Islamic movement, fighting against what she called the Islamization of the U.S. Maybe there is just one thing in common: You can't mess with Texas, you can't mess with Charlie Hebdo."
The Charlie Hebdo team, Biard said, simply aims to "comment on the news."
"The difference between us and these people is that these people are organizing contests, anti-Islamist contests," he continued. "It's an obsession … We are not obsessed. We are just obsessed by the news, and by how the world is going on. The difference with Pamela Geller, she is obsessed by Islam. She waits every morning and thinks, What can I do today to defy these people?"
The panel occurred during Biard and Thoret's first visit to the U.S. since the January attacks. Later tonight, they will receive the PEN/Toni and James C. Goodale Free Expression Courage Award at PEN American Center's annual Literary Gala for the advancement of free speech, an honor that has itself also sparked controversy. This morning's conversation centered around challenges to free expression and conflicts arising from cultural differences. In it, Biard argued that democracy means having the right to attack power and institutions.
"So if you don't have this right, if you can't challenge the power, if you can't contest the power, you're not anymore in democracy," he said. "It's the only way you can be a citizen … It's debate, after all. Blasphemy is just debate."