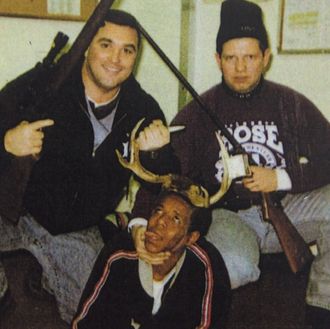 Former Chicago police officers Jerome Finnigan (left) and Timothy McDermott (right) pose over an unidentified suspect.
Photo: Court Released Photo
The Chicago Sun-Times has obtained a disturbing photograph in which two former police officers had placed antlers on a black drug suspect and then posed over him with rifles as if they were hunters and he was their prey. The paper reports that last fall, after an investigation into the image, a police board voted 5–4 to fire one of the officers, Timothy McDermott, arguing that "appearing to treat an African-American man not as a human being but as a hunted animal is disgraceful and shocks the conscience." Said Mayor Rahm Emanuel when asked about the photo yesterday, "As the mayor of the city of Chicago to that individual, 'Good riddance…. You don't belong in the Police Department.'"
By the time police became aware of the image, the second officer in the photo, Jerome Finnigan, was already serving a 12-year jail sentence for running a gang of corrupt cops involved in robberies and home invasions, as well as himself participating in a murder-for-hire scheme. Officer McDermott was never implicated in any of those crimes.
The photo, which was taken in a West Side police station sometime between 1999 and 2003, had been turned over to police by federal prosecutors in 2013 following Finnegan's prosecution, after which police officials questioned and then moved to fire McDermott. In his interview with Internal Affairs, McDermott said that by participating in the photo he "made a mistake as a young, impressionable police officer who was trying to fit in." The department, as well as McDermott's lawyer, had tried to keep the photo hidden from the public, but a judge denied the city's request to seal it. The identity of the man posed in the photo is still unknown.
McDermott, who was a detective at the time of his dismissal, is the step son of a powerful former police superintendent and the recipient of 74 department awards. He was also a defendant in four federal lawsuits accusing him and other officers of official misconduct. The city paid settlements in three of those cases, and a jury awarded damages in the fourth. McDermott is appealing his dismissal, though he might want to get a new lawyer, as the Sun-Times article illustrates:
"What's to say this individual wasn't performing at a Christmas pageant in the district and was dressed as a reindeer and had taken the reindeer suit off? Again, I don't mean to make preposterous arguments, but the charges in this case, they warrant that," [attorney Daniel Herbert] said. [He] also compared the photo to an episode of "Seinfeld" in which Jerry is wrongly accused of picking his nose.

Herbert said there was strong evidence in the photo that the African-American man was a "willing participant" and was not coerced to pose with antlers. He even questioned whether the guns were really broomsticks carved to look like weapons.
Earlier this month, Chicago agreed to pay more than $5 million in reparations to residents who were tortured at the hands of a city police commander and his subordinates. Also, a recent Guardian investigation reported that city police have operated a black sitelike interrogation center where suspects were routinely denied their rights. And according to the Better Government Association, an Illinois watchdog organization, Chicago has paid more than half a billion dollars in police misconduct settlements over the past decade.