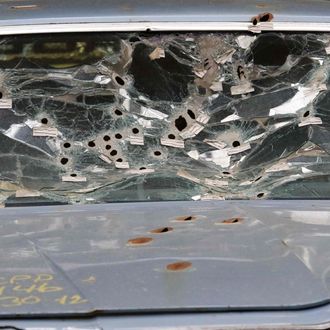 The windshield of Timothy Russell's car.
Photo: Aaron Josefczyk/Reuters
A Cleveland police officer, who in 2012 fired 49 shots at an unarmed black couple in their car, has now been acquitted of manslaughter charges following a bench trial. On November 29 of that year, officer Michael Brelo, who is white, was one of many cops who had been pursuing the couple, Timothy Russell and Malissa Williams, in a 20-mile car chase that involved more than 60 police cars. When the chase finally ended in a middle-school parking lot, police fired 137 rounds at the couple, and prosecutors said Brelo delivered the fatal shots by climbing onto the hood of the car and firing at least 15 times at close range. In closing arguments, assistant county prosecutor James Gutierrez had argued that Brelo fired "as if they were fish in a barrel" and claimed the officer hadn't just made a bad decision, but had in fact "wanted to kill" the couple. However, Judge John P. O'Donnell, who was not convinced Brelo's bullets were the ones that did the fatal damage, ruled that "the state did not prove beyond a reasonable doubt that the defendant, Michael Brelo, knowingly caused the deaths of Timothy Russell and Malissa Williams." During the chase, officers had radioed dispatch to report they heard what they thought was a gunshot coming from the car, but no gun was ever found. Brelo was also acquitted of two lesser counts of felony assault. A review of the case is planned by the U.S. attorney's office, the FBI, and the Department of Justice's Civil Rights Division.
In Cleveland, locals refer to the incident as "137 shots," and while the event originally led to small protests, the two-and-a-half-year-old crime and Brelo's trial have drawn more focus in recent months amid rising national attention toward police brutality and excessive force, particularly in communities of color. This has prompted many in Cleveland to worry what the public reaction would be if Brelo was acquitted, and city officials have spent months meeting with community leaders in an attempt to prepare for today's verdict. Officials are now insisting they will be able to keep order should any resulting protests turn violent. Cleveland has of course already been on edge over the death of 12-year-old Tamir Rice, who was gunned down by police last year after he was found playing in a park with a pellet gun. A protest over that case was already scheduled for today. The investigation in Rice's death is expected to conclude soon.
This post has been updated to reflect new details about the case.