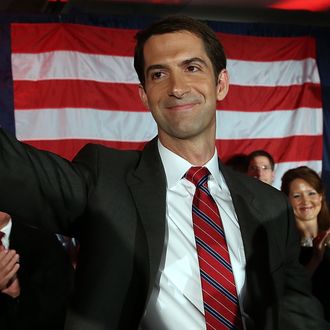 Photo: Justin Sullivan/Getty Images
A bill that will give Congress 30 days to review any final agreement with Iran passed 98–1 in the Senate today. The House will likely pass the legislation next week.
The only senator to vote against the bill allowing Congress an opportunity to debate a nuclear deal was Tom Cotton, the freshman senator who has most vocally opposed any deal with Iran. 
He released a statement today explaining his reasoning: "Congress should not accept this usurpation, nor allow the president any grounds to claim that Congress blessed his nuclear deal." Cotton and Senator Marco Rubio relied on some procedural wizardry to try to trip up the bill — which took months of deals and negotiations to craft — but their plan failed. 
Senator Barbara Boxer was the only senator to miss the vote; she is out fund-raising for Hillary Clinton.