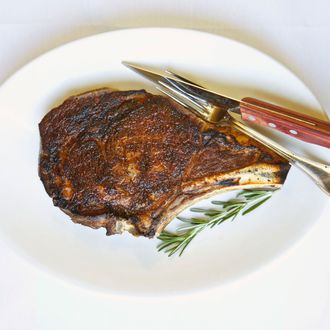 If not being able to eat this photo of steak fills you with rage, the people below understand.
Photo: Baranowski, Andre/Corbis
Today, the Star-Press published a story with the headline, "Barbecue dispute ends with fork in eye." Judging from similar stories published in 2015, being hungry is not a leading cause of crime, but it is one newspapers can't help but write about whenever given the chance. There are enough case studies to make you think we're suffering from a hangry outbreak. 
Here are a few more compelling reasons to eat alone.
May 28, 2015: 30 people kicked out of hotel for fighting over a waffle maker
May 28, 2015: Police Called Over Ice-Cream Cone With Not Enough Sprinkles
May 27, 2015: Prison inmates upset over cheese
May 27, 2015: Massachusetts man calls police to complain of McDonald's order
March 26, 2015: Cinnamon bun argument escalates, Myrtle Beach woman charged with attempted murder
May 26, 2015: Man named Bacon arrested for fight over sausage
May 23, 2015: Coffee and chocolate milk fly in I-78 road rage incident 
May 15, 2015: Portland police: Woman arrested in salad bar incident
May 14, 2015: Police: Man threatened customer with fork
March 13, 2015: Police: Teen Throws Milkshake at School Bus, Shatters Window
May 13, 2015: Man's anger over lack of mac 'n cheese leads to charges, police say
May 5, 2015: Police: Tiff over sandwich causes man to punch Jimmy John's employee
April 23, 2015: Police: Woman steals cheese, beer, sprays perfume, leaves cellphone at scene of burglary

April 20, 2015: Pickaxe wielding Putnam man arrested after family argument over beer
March 30, 2015: She stabbed her boyfriend, 61, for eating too much salsa?
March 2, 2015: Axeman attacks his mate after argument over packet of Doritos
February 10, 2015: Man accused of stabbing family member with dirty fork after argument
February 4, 2015: Man Stabbed With Meat Fork, Police Say
January 14, 2015: Man jailed after breaking into police station and cooking ravioli, Weetabix, milk in a pan
January 14, 2015: Man robs store at knifepoint over V8 beverage, Doritos
January 11, 2015: Police: Mom stabs teen over pork chop dispute