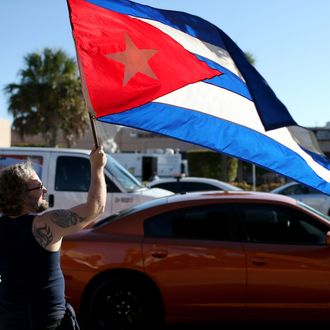 A man waves a flag in Miami's Little Havana on December 17, 2014.
Photo: Joe Raedle/Getty Images
In another sign of the continuing thaw between the White House and Cuba, the Obama administration has granted approval to a handful of companies interested in restarting ferry service between the U.S. and Cuba. If these companies' plans proceed and Cuba signs on as well, it will be the first time a ferry has connected the two countries since the early '60s. Want to get there faster? Yesterday, Jet Blue announced it will start offering direct charter flights from New York to Havana in early July.