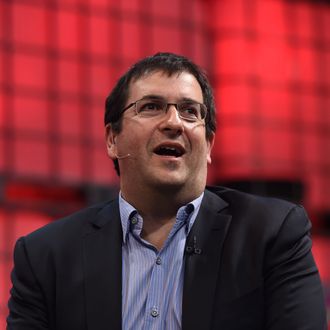 Photo: Handout/2014 Sportsfile
Dave Goldberg, the 47-year-old husband of Lean In author and Facebook COO Sheryl Sandberg, died suddenly on Friday night. According to the New York Times, Goldberg was on vacation with Sandberg in Punta Mita, Mexico, when he decided to use the resort's gym. He suffered fatal head trauma when he fell while exercising on a treadmill and struck his head. Goldberg was taken to a local hospital with weak vital signs and was later pronounced dead.
Goldberg, who had two young children with Sandberg, was the CEO of SurveyMonkey, which released a statement acknowledging his death: "Dave's genius, courage and leadership were overshadowed only by his compassion, friendship and heart. Our sympathy goes out to them and to all who were touched by this extraordinary man. We are all heartbroken." Goldberg's family has encouraged those who knew him to post remembrances to his Facebook page.