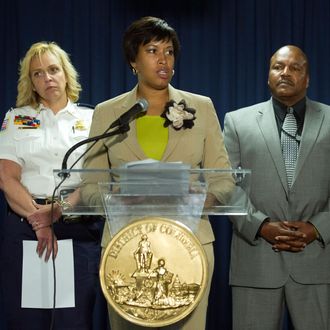 D.C. Mayor Muriel Bowser speaks during a news conference in Washington on the investigation into the mysterious slayings of a wealthy Washington family and their housekeeper. (AP Photo/Cliff Owen)
Photo: Cliff Owen/AP Photo
Investigators believe that the main suspect in last week's quadruple homicide and fire in Washington, D.C., may be hiding in Brooklyn. 
Savvas Savopoulos, Amy Savopoulos, their 10-year-old son Philip, and their housekeeper Vera Figueroa were all found dead last Thursday in the Savapoulos family's mansion, which had been set on fire.
Daron Dylan Wint, whose DNA was found on a Domino's pizza crust left at the house, may have previously worked for Savapoulos's company, American Iron Works. Before the house was set on fire, Savopoulos's assistant dropped $40,000 outside. The police have evidence that the family was bound, held overnight, and covered in gasoline. Authorities say the 10-year-old boy may have been tortured before the money arrived. "Anytime there's a child involved, it really affects all of us," D.C. Police Chief Cathy Lanier said at a press conference yesterday. The Savopouloses' two other children were at boarding school last week.
Authorities spoke to Wint's girlfriend on Thursday. She said she had seen the suspect after the attack, and was under the assumption that he would turn himself in. 
U.S. Marshals and the NYPD are working on the case in New York. "We have a very active investigation underway here in New York at this time," New York City Police Commissioner Bill Bratton said today, "assisting our colleagues in the marshal's service and the Washington, D.C., metropolitan police." Wint has one previous conviction of misdemeanor assault in Maryland, and faced other charges for domestic violence and theft. 
"Right now, you have just about every law enforcement officer across the country that is aware of his open warrant, and are looking for him," Lanier said today. "I think even his family has made pleas for him to turn himself in, and I would just reiterate that it's much easier if he just turns himself in."