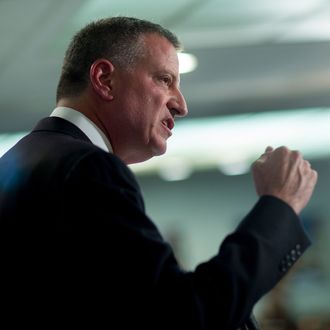 Photo: Andrew Harrer/Bloomberg via Getty Images
The New York Post, never one to say anything nice about the mayor while anyone is looking, began its story on de Blasio's trip to D.C. this week, "He's on the road again." De Blasio has given speeches in Wisconsin, Nebraska, and Iowa recently, and he's headed to California for a fund-raiser on Thursday. The mayor defended his travel by saying that it would be impossible to advance his ambitious agenda in New York without federal assistance and reform. "If you say we can solve all these problems with just the resources in New York City, well, that's great," he said in Queens yesterday.
He echoed that thought during a visit to D.C. today: "We in New York are doing all we can but we cannot complete the mission without fundamental change in federal policy." Shortly after saying those words, de Blasio unveiled his "Progressive Agenda to Combat Income Inequality," which happened on the steps of the Capitol this afternoon (just as Gingrich's Contract did). Although most New York elected officials didn't attend the agenda unveiling, plenty of other progressives, union leaders, advocates, and celebrities —  Steve Buscemi, Susan Sarandon, Alan Cumming, Danny Glover, Senator Jeff Merkley, and Representatives Keith Ellison, Raúl Grijalva, and Rosa DeLauro — did. De Blasio's recipe for ameliorating inequality includes a $15 minimum wage, universal pre-K, and paid family leave.

He had previewed this message at an earlier event at the National Press Club, where academics had gathered to discuss the Roosevelt Institute's new report on income inequality — "Rewriting the Rules of the American Economy." The report, written by economist Joseph Stiglitz, pointed to many of the same policy solutions as de Blasio's 13-point plan: ending "too big to fail," universal pre-K, raising taxes on the wealthy, subsidizing childcare, raising the national minimum wage, and strengthening bargaining rights. Senator Elizabeth Warren also spoke at the Progressive Agenda pre-party, although she didn't stay to listen to de Blasio — or attend his announcement later at the Capitol.
Hillary Clinton was rarely mentioned during either of these rollouts, but as she is the one presidential candidate progressives are most determined to move to the left, it was obvious she was the intended audience. Given Clinton's first few public appearances since the start of her campaign, it seems clear that she intended to adopt many of these policy ideas anyway — and will be able to package them in a far more attractive way than those unveiling them.
If all it took for these changes to get implemented was support from progressives, they would have become law ages ago. If all these policies needed was support from voters, one might also think they'd already have had great success. A 2014 poll from the Pew Research Center had 69 percent of Americans saying that the government should do a lot or some to help reduce the gap between the rich and the poor. Seventy-three percent supported raising the minimum wage to $10.10, and 54 percent of respondents said that taxes should be raised on the wealthy and corporations to help expand programs for the poor. However, these policies don't have support from the Republican majority in Congress, which means they seem doomed to linger in policy panels and stump speeches for the time being. One of the big questions left hanging after today's events seemed to be "how are these ideas going to succeed in debates where its defenders aren't preaching to the choir?"
This is where Hillary Clinton comes in, at least one panelist seemed to hint on Tuesday.
Heather Boushey, chief executive and chief economist of the Washington Center for Equitable Growth — and an economic adviser for Hillary Clinton's campaign, was on Tuesday's panel at the National Press Club, and interrupted the discussion of the Federal Reserve and capital gains taxes to bring up a problem with the theoretical policy debate taking place. "Abstract discussions" about the issues in their blueprint, she said, "don't make Americans care about it. You need to show how it plays out in families."
Families like the ones that appeared in the video announcing Hillary Clinton's campaign, and the ones she keeps bringing up in her campaign speeches. By rendering the complex and wonky economic policies that frustrated progressives have been pushing for into simple — and often hokey — campaign stories, she's basically auditioning to be a reverse anger translator for the progressive movement and the issues it demands she embrace.
Telling voters why they have no retirement savings and expensive housing is not the best way to win hearts on the campaign trail. Telling them how it might get better — and what a better economy means for them, however, can work a bit of hopey-changey, timey-wimey magic.
Will Clinton be a successful or well-received transmitter of the progressive laundry list? Who knows, especially given that wing of the party's sticky distrust of Clinton — and her long career of policy stances that have caused it. Waiting for Warren to step up and take her place is a less than fruitful exercise; she's too busy fighting more immediate battles in Congress. De Blasio is only in his first term as mayor, and his grumbles to Rolling Stone about his constituents' views of his tenure — "A lot of people outside New York City understand what happened in the first year of New York City better than people in New York City" — and his dwindling poll numbers show that he might have more pressing matters to attend to than presidential politics too.