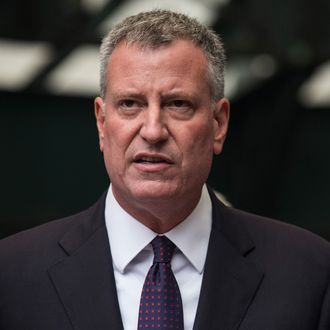 Mayor de Blasio.
Photo: Andrew Burton/Getty Images
Mayors: They're just like us — made late again by a phantom 2 train.
The Times reports that Mayor Bill de Blasio decided to hop the subway on his way to a speaking engagement on Monday, but due to extensive delays, he ended up waiting 20 minutes for an express train that never arrived. Like it would many of us, this sent him into an angry email-sending spiral, and he dashed off a note to his aides about the experience. The only problem: He accidentally cc'd a New York Times reporter on that email, too.
"We waited 20 mins for an express only to hear there were major delays," he wrote. "This was knowable info. Had we had it, we would have avoided a lot of hassles." He also urged his staff to coordinate future subway trips with the MTA, which makes us think he has way more power over the train schedules than he lets on.
If this is a subtle way to sneak back into the good graces of the one percent, well done, sir. If not, and coordinating commutes with the MTA is an option available to all New Yorkers, please let me know who to talk to there. I'd really like the 2/3 trains to run express from my house to work. Thanks!