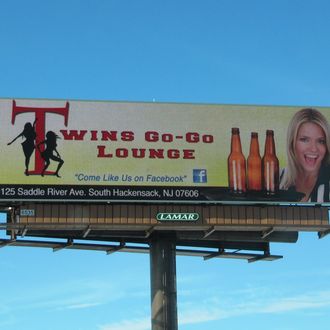 Two former DEA employees are accused of lying about their involvement with the classy establishment Twins Go-Go Lounge in South Hackensack, New Jersey. According to the Times, David Polos and Glen Glover were actually operating it on the side while they worked for the DEA.
Polos, a former DEA official, and Glover, a former DEA telecommunications specialist, both allegedly had a financial interest in the club that they declined to disclose to the DEA. They're now being charged with making false statements during a national security background check.  
Text messages sent and received by the two reveal they actively 0versaw operations at Twins Go-Go. "I fixed the chair … can you tell (an unidentified person at the club) to stop having sex with (a stripper) on the chair, it's just not built to handle all the added weight she is carrying," read one text sent by a manager to Glover, according to the Daily News.
Doesn't seem like the type of job worth risking your DEA career for, but I'm the one writing a blog post about it, so really, who am I to judge?