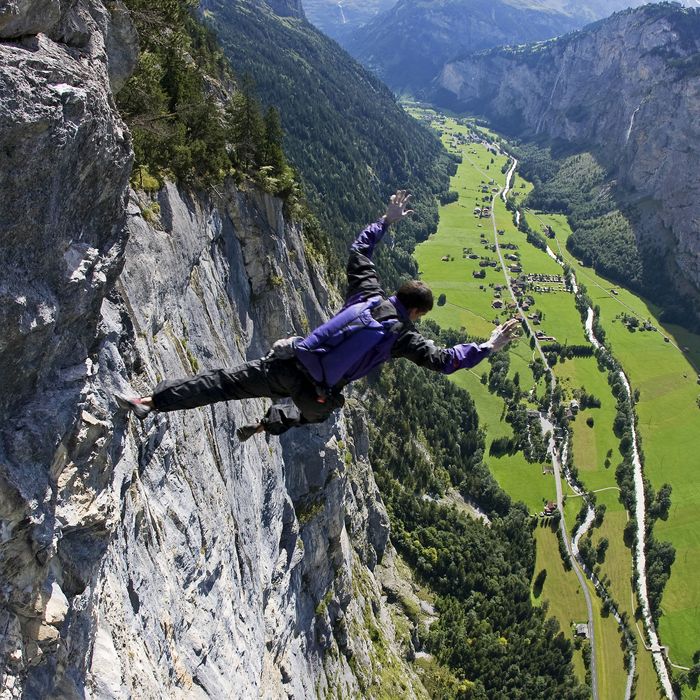 Dean Potter executes a free solo climb and fall with parachute in summer 2008 at Lauterbrunnen in Switzerland.
Photo: Beat Kammerlander/Barcroft/Getty Images
Forty-three-year-old rock climber Dean Potter, infamous for unbelievable acts like climbing Delicate Arch in Utah and high-line walking at China's "Grand Canyon," died on Saturday after a BASE jumping accident at Yosemite National Park. 
He and Graham Hunt, a 29-year-old fellow climber, were near the 7,500-foot cliff Taft Point when they tried to fly in wingsuits — which allow humans to pretend for a few moments that they have evolved to become brightly colored flying squirrels — to a new spot. Instead, the pair crashed to the rocks below. 
BASE (it stands for building, antenna, span, and earth) jumping with wingsuits, which National Geographic described as "steadily gaining a reputation for being the world's most dangerous sport," helped Potter gain notoriety, but also made it difficult to stay in his sponsors' good graces. When he became the first person (that we know of) to climb Delicate Arch in Utah in 2006, Patagonia dropped him, and many wondered if he damaged the natural treasure or broke federal law by climbing it. Other climbers called it a publicity stunt. Last year, Clif Bar dropped him, too, after a documentary film about rock climbing in Yosemite National Park showed him and four other climbers taking risks the company wasn't comfortable endorsing. 
This year, he released a film titled When Dogs Fly, starring his BASE jumping dog Whisper. This movie also courted angry cries.
Potter persisted, continuing to climb and walk among rock formations on a high-line, earning nicknames like the "Dark Wizard," or, as the New York Times once described him, "a less gaunt and reckless Keith Richards as Alpine daredevil."
Fellow climber Doug Robinson told the BBC, "We're very sad about Dean Potter's death, but not very surprised. He was pushing the envelope all his life."
The spotter keeping guard as Potter and Hunt climbed in Yosemite on Saturday heard a loud noise that could have either been parachutes opening, or the sound of two people hitting the ground. It was dark, and hard to tell. The group was afraid of getting arrested, and the spotter thought that may have been what happened. However, after the pair didn't show up at the meeting place or make radio contact. Potter and Hunt's partners called Yosemite Search and Rescue that night. On Sunday morning, a state police helicopter located the bodies — no parachutes had been deployed. 
"It's tremendously sad," Mike Gauthier, Yosemite's chief of staff and an occasional climbing partner of Potter's told the New York Times. "He was a luminary and in the pantheon of climbing gods."
At least two other BASE jumpers have died this year, according to CNN.
Potter's friend Brad Lynch made a film about him, Aerialist, in 2008. Shortly after, Lynch told ESPN, "I don't think he's surrendered to the possibility of death in any way. I think if Dean blows it, his last feelings are going to be complete disappointment in himself." Potter told ESPN, "I don't have thoughts of an afterlife. I think dying is like when you swat a fly — it's over. I'm addicted to the heightened awareness I get when there's a death consequence," he says. "My vision is sharper, and I'm more sensitive to sounds, my sense of balance and the beauty all around me. A lot of my creativity comes from this nearly insane obsession. Something sparkles in my mind, and then nothing else in life matters."