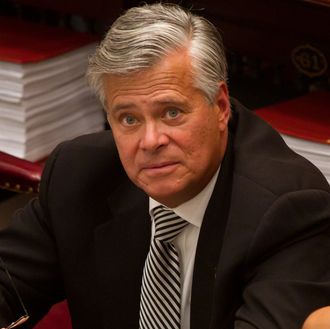 Dean Skelos talks with colleagues in the Senate chamber on June 16, 2011.
Photo: Matthew Cavanaugh/Getty Images
Senate Republicans succeeded in convincing State Senator Dean Skelos off his pedestal; he is resigning from his position as majority leader. Last week, Skelos and his son were arrested on federal corruption charges, but Skelos has maintained his innocence and repeatedly said he had no plans to step down — and his colleagues thought supporting him was smart until persuaded otherwise by editorial boards and other political leaders. State Senator John Flanagan, a Skelos ally who chairs the Senate Education Committee, is said to be his replacement. In January, the Assembly starred in a nearly identical bit of resignation drama; Sheldon Silver stepped down from his role as speaker after being arrested on federal corruption charges.