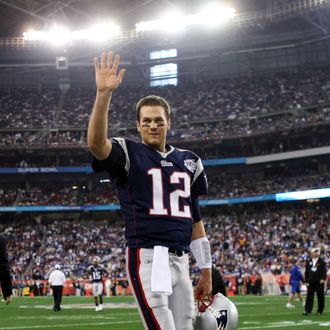 Photo: Harry How/Getty Images
The NFL has decided exactly how to punish the New England Patriots after the league's 243-page report concluded that the team probably deflated footballs on purpose during the 2014 AFC Championship game. Quarterback Tom Brady, who is probably drowning his sorrows in his favorite avocado ice cream, will be forced to sit out the first four games of next season, and the Patriots will have to pay out $1 million. The team will lose two draft picks — a first-round pick in 2016, and a fourth-round pick in 2017. 
NFL executive president Troy Vincent wrote a letter to Tom Brady explaining the punishment: "Your actions as set forth in the report clearly constitute conduct detrimental to the integrity of and public confidence in the game of professional football."
Locker-room attendant Jim McNally and equipment assistant John Jastremski have been suspended indefinitely.
In 2005, the Patriots had to pay fines and were barred from a first-draft pick after the team forced the media to come up with another unfortunate catchy name for misdeeds — "Spygate." The Patriots got caught videotaping defensive signals used by the New York Jets.