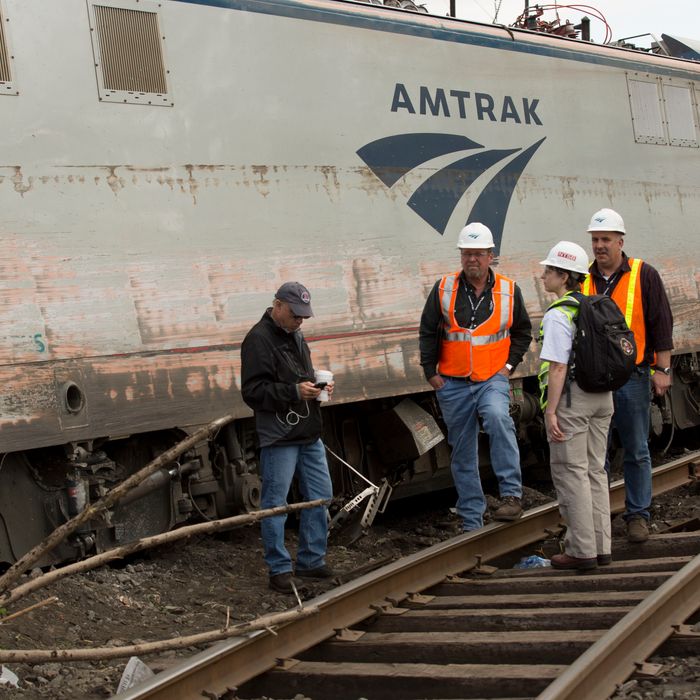 NTSB Recorder Specialist Cassandra Johnson (2nd R) works with officials on the scene of the Amtrak Train #188 derailment on May 13, 2015 in Philadelphia, Pennsylvania.
Photo: NTSB.gov via Getty Images
Amtrak engineer Brandon Bostian can't recall what caused last week's deadly derailment, but now investigators have ruled out one possibility. One of the train's conductors said she heard Bostian say "something about his train being struck by something" to the engineer of a passing SEPTA train just before the crash, and that may explain why Bostian headed into a curve at more than 100 mph. The FBI has been investigating a small hole surrounded by a crack in the train's windshield, and on Monday the National Transportation Safety Board wrote on Twitter the agency found no evidence that the damage was caused by a firearm.
The NTSB also said that it has not ruled out the possibility that the train's windshield was hit by some other object, and according to the New York Times, they're still considering both mechanical failure and human error. "We're so early in, we don't have any theories on the table at this point," said NTSB spokesman Peter Knudson. The board said we may not have any answers for many months:
Nevertheless, four passengers filed a federal lawsuit against Amtrak on Monday, accusing Amtrak of failing to install technology that could have prevented the crash, and Bostian of "recklessly" exceeding the speed limit. The victims' attorneys, Robert Mongeluzzi and Tom Kline, said reports that the windshield was hit are a "red herring" and suggested that Bostian is faking his memory loss. "Speed kills," Mongeluzzi said. "That engineer had a sacred and solemn responsibility for the safety of his passengers. Nothing else matters … I can find no excuse for speeding 106 mph into a 50 mph curve."