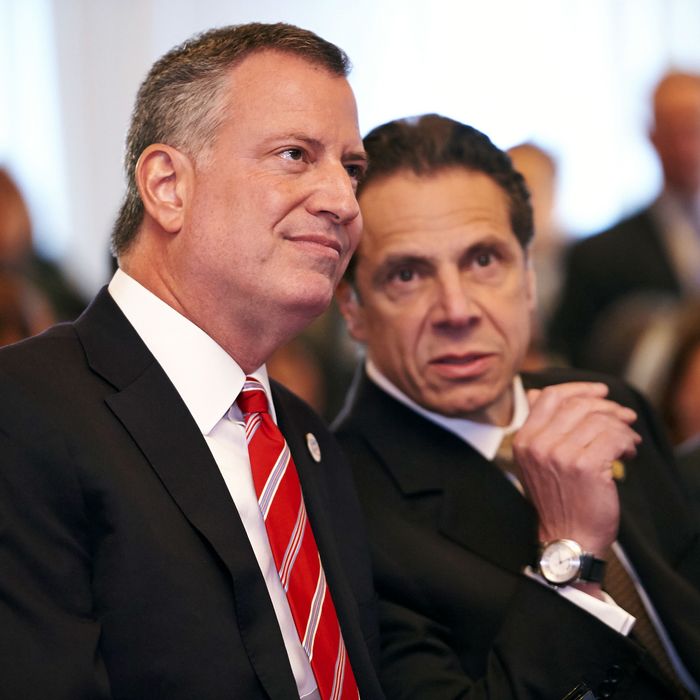 New York City Mayor Bill de Blasio and New York State Governor Andrew Cuomo
Photo: James Keivom/NY Daily News via Getty Images
There was Governor Andrew Cuomo in the noonday sun, smiling and shouting from a stage in Union Square to a crowd of union workers, touting his plan to boost the minimum wage
for
New York's 180,000 fast-food workers, as a step toward "redefining income

 

inequality."
Two hours later, inside City Hall's Blue Room, there was Mayor Bill de Blasio, unveiling his $78.3 billion city budget proposal, and listing as its first priority "addressing the inequality crisis."
Today they were mostly speaking the same language. But the back-to-back events came at a moment when their political trajectories are diverging.
If the dominoes had fallen properly, Cuomo would have been ramping up a 2016 presidential campaign right about now. There's no point in him squandering his ambitions in a run against Hillary Clinton, though. After a successful first term, Cuomo was still on course to be a valuable fund-raiser and surrogate once next year's general election rolls around. Now even that role looks doubtful, thanks to the embarrassing and seemingly unending series of ethical scandals rocking Albany.
Instead it's de Blasio who is eagerly building a national profile. This is coming with some missteps, including the new Rolling Stone interview in which the mayor seems to slag his predecessors and his constituents ("A lot of people outside New York City understand what happened in the first year of New York City better than people in New York City"). And the mayor's national forays risk him looking as if he's neglecting his day job.
De Blasio does get into the weeds of day-to-day city management. But a large part of him will always be an organizer and campaigner. So he has recently traveled to Iowa, Nebraska, and Wisconsin preaching the liberal gospel. Yesterday came an appearance on Morning Joe and an op-ed in the Washington Post co-written with Senator Elizabeth Warren. Next Tuesday, the mayor heads to Washington to roll out his "Progessive Agenda," a 13-point plan designed to tackle income inequality — and to further inject de Blasio into the 2016 presidential race.
"Hillary Clinton," a national Democratic strategist says, "doesn't care what Bill de Blasio is doing." Certainly HRC isn't charting BDB's every utterance. And Clinton, in the immortal words of Anthony Weiner, was "working on a progressive vision of health care when Bill de Blasio was still smoking pot at NYU."
But even if de Blasio never literally pushes Clinton toward a more progressive agenda, he may succeed in creating the appearance of having shaped the discussion. And — once the mayor inevitably gets around to formally endorsing Clinton — he may become a valuable validator on the 2016 trail.
Cuomo, meanwhile, has crafted an image and a record in the centrist mold of Bill Clinton, though the governor has a real claim on progressive achievements, from legalizing same-sex marriage to the expansion of childcare and education funding. He already raised the state's mininum wage once, in 2013, and he included another increase in this year's state budget proposal. The governor dropped it when state Senate Republicans refused to go along, and Cuomo's move today is partly an attempt to exploit that bloc's disarray in the wake of Dean Skelos's arrest.
The governor remains formidable in many ways, and he's starting to try to change the momentum. He too wrote an op-ed, for today's Times, about the reasons to raise wages for fast-food workers. But as de Blasio heads from presenting a budget flush with new tax revenue to presenting a progressive manifesto in D.C., Cuomo is heading back to Albany to contend with the mire of corruption. Perhaps that's why the governor's Union Square rally today, for all of its festive flags and blaring classic rock and feisty attacks on McDonald's and Burger King, struck a tone both combative and plaintive: Hey, don't count me out!