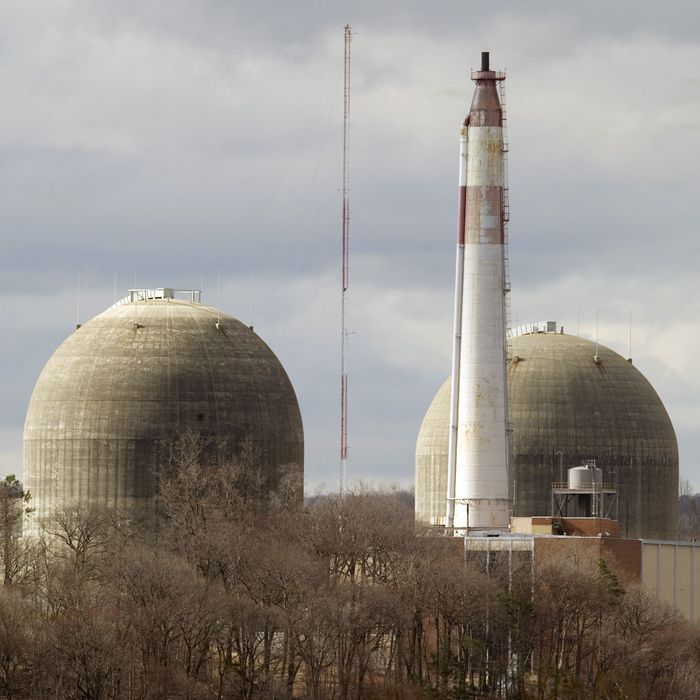 Indian Point.
Photo: DON EMMERT/2011 AFP
A scary-sounding thing happened in Westchester on Saturday evening: A transformer at the Indian Point nuclear power plant exploded, causing a fire. The blaze was quickly extinguished by the facility's sprinkler system, but not before it sent plumes of black smoke into the air above the town of Buchanan, about 30 miles from New York City.
So, uh, is this something to be concerned about? Not really, says Energy Corp., which owns and operates Indian Point. A company spokesman deemed the fire — which occurred in a "non-nuclear" part of the plant —  an "unusual event," which, NBC New York explains, is "the lowest of four emergency response classifications."
Still, Governor Andrew Cuomo headed up there to take a look. "[The damaged transformer] has discharged foam. It has discharged oil. Now we're worried about that leaking into the Hudson River — and the storm drains go down into the Hudson. So that would be a problem," he told CBS New York. He added that the New York Department of Environmental Conservation is "doing their best to seal off storm drains, but there is a lot of foam and there's a lot of oil, so the trick is to keep as much as we can from going into the river."
The cause of the transformer's failure is still unclear, but investigators are looking into it. "I take nothing lightly when it comes to this plant specifically," Cuomo assured reporters. That's good to know, given that Indian Point is said to be the most dangerous nuclear plant in the United States.
Update: As noted by Gothamist, members of an environmentalist group seem to have spotted some oil on the Hudson on Sunday: