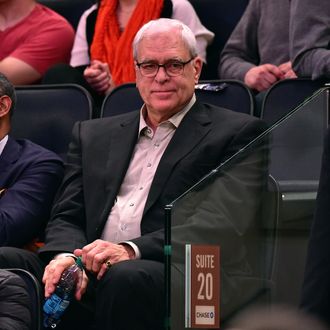 Knicks president Phil Jackson at a game earlier this year.
Photo: James Devaney/GC Images
Knicks fans who endured an ugly 17–65 season had been looking forward to tonight's draft lottery for some time. The Knicks had a 19.9 percent chance at the top pick, the second best odds of any team. They also had a 38.7 percent chance of landing one of the top two spots, which would have meant picking either Kentucky's Karl-Anthony Towns or Duke's Jahlil Okafor, who are considered a class above the rest of the year's eligible players. But luck was not on the Knicks' side: They'll pick fourth in next month's draft.
It's close to a worst-case scenario, as they were guaranteed to pick no worse than fifth. And while picking fourth was actually the most likely of their five potential draft spots, they had better than even chances of at least picking in the top three.
To make matters worse, the top pick went to the team with the best chance of landing it, the Minnesota Timberwolves. (More accurately, the T-Wolves, who finished with the league's worst record, had the most number combinations to potentially match the ping-pong balls chosen to determine the team that would pick first.) Of course, it would have been the Knicks who had the most combinations, but they were leapfrogged by Minnnesota late in the season after the Knicks won two of their last three games.
Afterward, Knicks GM Steve Mills said that getting the fourth selection "is not a setback." Still, this is not the face of a happy man: