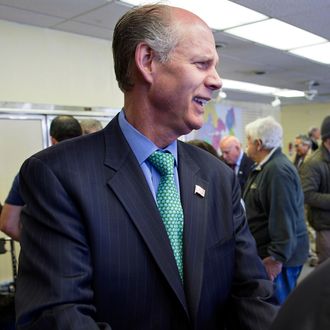 Richmond County District Attorney Daniel Donovan speaks with supporters while opening Staten Island campaign office in New York on March 22, 2015.
Photo: AP Photo/Craig Ruttle
Four months after Representative Michael Grimm resigned after pleading guilty to felony tax fraud, Staten Island (and parts of Brooklyn) have a new, far less embarrassing congressman — though he's still a controversial pick. As Staten Island's district attorney, Daniel Donovan failed to secure an indictment in the Eric Garner case, which led to protests in December. Garner's death was rarely mentioned during the campaign, and on Tuesday Donovan, a Republican, won the race with 58.7 percent of the vote to Democratic New York City councilman Vincent Gentile's 39.6 percent.
"You sent a message to President Obama, to Nancy Pelosi and, yes, even to Bill de Blasio, that their policies are wrong for our nation," Donovan said in his victory speech. "They're wrong for our city and they're wrong for the community of the 11th Congressional District." The Wall Street Journal notes the election actually drew little national attention, but the odds that Donovan's name will appear in their press clippings just increased slightly.