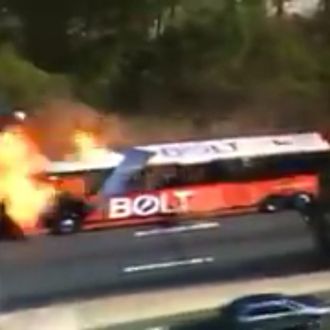 Add "exploding bus" to this week's list of reasons never to leave the house. On Monday, a BoltBus traveling from New York City to Boston burst into flames on the side of the highway. All passengers were safely evacuated before the explosion, but videos show the vehicle emitting smoke long before it actually pulled over.
The trip was destined to end in disaster, Gothamist reports. Problems began when the driver explained away the vehicle's defunct heating and cooling system, got worse when she casually mentioned an over-reliance on the emergency brake, and culminated in a two-alarm fire.
A passenger who complained about the BoltBus driver's apparent lack of urgency and procedural understanding said she was offered "a couple of round trips" by the company. Can't believe all it takes these days to get a free bus trip is a near-death experience.