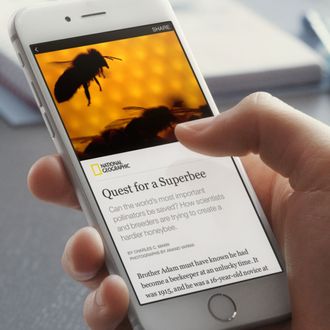 Facebook debuted its new Instant Articles feature today, which allows media companies to publish entire stories directly into the news feed. The New York Times, BuzzFeed, The Atlantic, and a host of other publishers are part of the rollout, which has sparked new questions about the dangers of giving Facebook the role of news gatekeeper. 
In-Facebook articles load much faster than outside links, which can take up to eight seconds to load, upping your chance of bleeding readers. Publishers are hoping that faster load times will keep people clicking and reading their stories.
Facebook has also devised a monetization strategy that has some surprised: Publishers can sell and embed their own ads and receive 100 percent of the revenue, or use Facebook's in-house ad services, allowing the social network to take 30 percent of the profits.
The Instant Articles also encourage you to share the article's original URL to other social networks like Pinterest and Twitter.
A willingness to drive traffic to competitors suggests Facebook is all too aware of its power and the jitters people are feeling about it.
In the end, there was only one reaction to the news that really mattered, and it was this dog's: