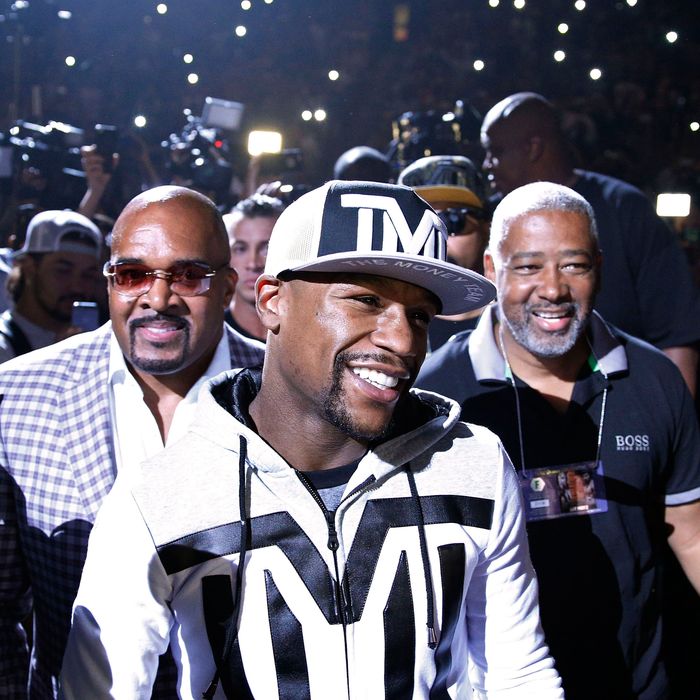 Boxer Floyd Mayweather Jr. walks onto the stage during an arrival ceremony Tuesday, April 28, 2015, in Las Vegas.
Photo: John Locher/AP/Corbis
Floyd Mayweather has made crystal clear what his Saturday prize fight against Manny Pacquiao is really about.  
"Money," he told one interviewer. "I'm not going to lie to you. Of course, everything plays a major key. I love the fans, I want to give them excitement, I love them." But the fans aren't the central reason for the fight? "No, the money." The 47-and-0 boxer went on: "At the end of the day, my daughter can't eat the zero. She can't eat a boxing record."
Win or lose, Mayweather stands to make an astonishing amount on Saturday — well more than $100 million for an hour or so of work. And he will do so by virtue of one of the most unusual and potentially the most lucrative financial deals in all of professional sports.  
Many star athletes make the lion's share of their money through endorsements, and virtually all get something from big-spending brands. LeBron James, for instance, made $19.3 million last year playing basketball and more than $50 million hawking products for Coca-Cola, Nike, Samsung, Dunkin' Donuts, and Audemars Piguet watches, as tallied by Forbes. Roger Federer had $4.2 million in winnings and ten times that amount in endorsement income. But not Mayweather. In fact, he came out No. 1 in the Forbes list of the world's top 100 earners in sports in 2014. And he was the only one not to have any endorsement income, largely owing to his horrific record of domestic abuse. 
And many star boxers make the lion's share of their money through fight fees guaranteed by promoters, which can include a slice of any pay-per-view revenue. Again, not Mayweather. Instead, he acts as his own promoter, staging his own fights and collecting gobs of money at the back-end. "It's never been done," he told the New York Times about his financial setup back in 2011. "Not in entertainment history. Not in sports history. You see that arena Saturday? It's all Mayweather money. Want a hot dog? Mayweather money. Want a T-shirt? Mayweather money. I need all that."
In some sense, then, Mayweather looks less like a top-earning athlete than he does like a top-earning touring musician — especially if you think of the pay-per-view watchers as being ticket holders. He stages his own shows and then takes a fat cut of the revenue from those shows. He makes money the way that Phish and the Dave Matthews Band make money, more so than the way that Serena Williams and David Beckham make money. (As Tim Smith points out, this could have something to do with the fact that one of Mayweather's advisors used to work in music promotions.)
And this time around, there's going to be a lot of Mayweather money to make. The fight is expected to generate around $300 million in pay-per-view revenue alone, about two thirds of which will go to Mayweather and Pacquiao. On top of that, there will be revenue from fight sponsorships, like the $5.6 million Tecate paid to get its logo emblazoned on the floor of the ring; various additional television rights; revenue from tickets and merchandise; and on and on. It's a freakishly lucrative setup for Mayweather, and one that only a true superstar with the clout to muscle himself into these kind of contracts could make.