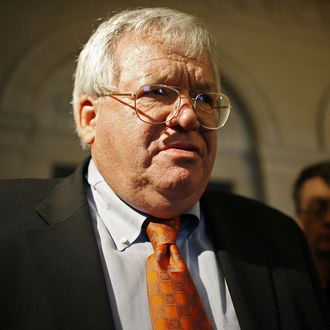 Photo: Chip Somodevilla/Getty Images
Federal prosecutors indicted former House speaker Denny Hastert on Thursday for lying to the FBI about illegally structuring withdrawals from banks while he was paying off someone for "prior bad acts."
The Los Angeles Times reported on Friday that sources have said that the payments were made to conceal sexual misconduct from the former Illinois Republican representative's days as a wrestling coach and teacher at a high school in Yorkville, Illinois. "It has nothing to do with public corruption or a corruption scandal," the anonymous federal law enforcement officers said. "Or to his time in office … It was sex."
The New York Times later provided more details: 
>
Banks are required to report cash withdrawals of more than $10,000; the indictment accuses Hastert of splitting up $952,000 worth of withdrawals to keep federal authorities from finding out about the payments. When federal authorities asked Hastert about it he said, "Yeah … I kept the cash. That's what I'm doing." 
"Whereas, in truth and in fact," the indictment reads, as Hastert "then well knew, this statement was false because: (i) He had been withdrawing cash from banks and providing the cash to Individual A in amounts of $50,000 or $100,000 to satisfy the agreement he made with Individual A to provide $3.5 million in order to compensate for and conceal his prior misconduct against Individual A; and 6 (ii) He had been withdrawing cash in increments of less than $10,000 to evade currency transaction reporting requirements because he wanted his agreement to compensate Individual A to remain secret so as to cover up his past misconduct."
As the Huffington Post points out, the Patriot Act, which Hastert helped get through the House in 2001, made it easier to track big financial transactions like the ones Hastert is accused of lying about. 
The indictment does not reveal who "Individual A" is or what the "past misconduct" happened to be. The indictment does say that this unknown person has known Hastert for a long time, and that the payments began in 2010. On Friday afternoon, BuzzFeed reported that sources said federal prosecutors decided not to press additional charges that would have involved an "Individual B." Hastert was in Congress for 20 years and served as House speaker from 1999 to 2007. He worked at Yorkville High School from 1965 to 1981. 
As a Chicago Tribune editorial noted, "The underlying narrative leaves much to the imagination."
A strange C-SPAN clip from November 2014 has been circulating in the past day; a caller from Yorkville who says his name is Bruce asks Hastert, "Remember me?" and hangs up.
According to BuzzFeed, the Justice Department was going to explain the details behind the banking-related charges, but Hastert's attorneys asked the federal government to keep those details out. BuzzFeed also talked to someone who coached with Hastert back in the '70s. "He was a straight arrow, nothing was hidden," he said. "It was a small town, if you farted it was going to be big news."
In the hours since the indictment, Hastert has resigned from his lobbying gig, and his former colleagues have been shocked by the news. White House Press Secretary Josh Earnest said, "there's nobody here who derives any pleasure from hearing about the former speaker's legal troubles." In Illinois, the state House had recently considered a bill that sought to set aside $500,000 for a Denny Hastert statue. The spokesperson for the legislator who sponsored the bill told the Chicago Sun-Times, "Hastert made contact with our office over a month ago, said he appreciated the recognition, but asked that we defer given the state's fiscal condition."