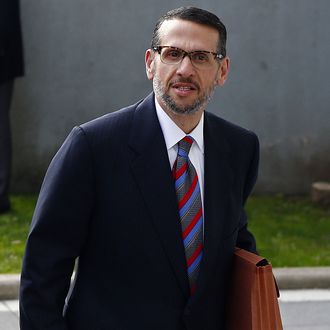 Photo: Rich Schultz/AP/Corbis
Former Port Authority official David Wildstein pled guilty to federal charges of conspiracy to commit fraud and conspiracy against civil rights at the United States District Court in Newark on Friday. 
Wildstein, a high-school friend of New Jersey Governor Chris Christie, received an email from Christie's former deputy chief of staff, Bridget Anne Kelly, saying it was "time for some traffic problems in Fort Lee." He replied, "Got it," and soon after, lane closures on the George Washington Bridge had left buses and ambulances dealing with bad traffic for days. The lane closures were originally explained to be a "traffic study."
Wildstein said today that the lane closures were meant as revenge against Fort Lee Mayor Mark Sokolich, who declined to endorse Christie during his 2013 reelection campaign. He will be released on $100,000 bond and is scheduled to be sentenced on August 6. 
It is expected that other people involved in the scandal will soon be indicted, On Wednesday, Christie — who has denied knowing anything about the closures before the story broke, spoke on the latest updates in the scandal, saying, "I can't speculate as to what may happen or not happen but we'll see, whenever anything does occur we'll react to it, but I know what the truth is so I'm not the least bit concerned about it."
Christie responded to today's developments on Twitter.
Wildstein's lawyer, Alan Zegas, said outside the courtroom today that "evidence exists" that Christie "knew of the lane closures as they occurred." "There is a lot more that will come out," he said. "Unfortunately, I am not in a position to talk about the matter in detail."
A Quinnipiac University poll from April had 53 percent of New Jersey residents assuming that Christie knew something about the George Washington Bridge scandal as it unfolded. The governor's approval rating has sunk to a nadir of 38 percent.
The news about Wildstein, sometimes referred to in the news as a "Christie Ally," briefly brought Kirstie Alley back into the news as everyone on the internet proved that reading comprehension begins to deteriorate on Friday morning.