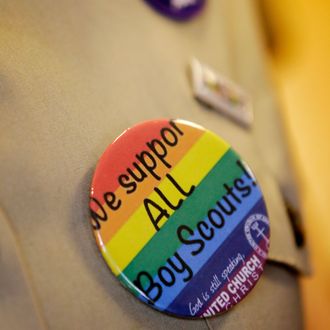 Photo: Tony Gutierrez/Corbis
Robert Gates, the former secretary of defense who now heads the Boy Scouts, said that the organization's ban on gay leaders "cannot be sustained" at a national meeting in Atlanta on Thursday. 
"Dozens of states — from New York to Utah — are passing laws that protect employment rights on the basis of sexual orientation," he said, according to prepared remarks. "Thus, between internal challenges and potential legal conflicts, the Boy Scouts of America finds itself in an unsustainable position."
During Gates's tenure at the Department of Defense, "don't ask, don't tell" ended. In 2013, Boy Scouts of America lifted its ban on gay youth members, but gay adults are still not allowed to join the organization, a practice upheld in a 2000 Supreme Court case. The Boy Scouts' Greater New York Councils defied the ban in April, hiring 18-year-old Eagle Scout Pascal Tessier to be a summer camp leader. Tessier told the Washington Post in 2013, "I definitely wouldn't be the person I am today without the Boy Scouts, which sounds cheesy, but it's true," and that he would be "devastated" if he were kicked out.
In March, the national Boy Scouts organization dismissed Brian Peffly, a gay man leading a local troop in Ohio. "I had the option to lie about it," he told the Columbus Dispatch earlier this month. "The first part of Scout law is that a Scout is trustworthy. I went with Scout law."
Gates does not plan to bring up a proposal to officially change policy this month, but said that the organization should discuss the change the next time it meets. He also said that any changes in policy should not penalize local chapters choosing to exercise "religious freedom."
Zach Wahls, executive director of Scouts for Equality, released a statement saying, "Dr. Gates has built his reputation on straight talk, and I'm glad he's fully endorsing a re-evaluation of the Boy Scouts' ban on gay adults. It seems like the Boy Scouts will continue an internal dialogue about the subject and that a full vote within the next year or two is imminent."