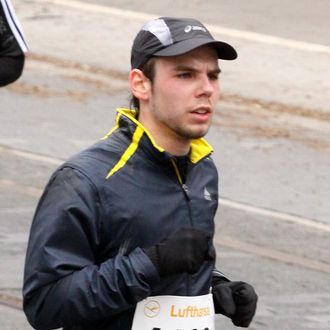 In this photo released today, co-pilot of Germanwings flight 4U9525 Andreas Lubitz participates in the Frankfurt City Half-Marathon on March 14, 2010 in Frankfurt, Germany. Lubitz is suspected of having deliberately piloted Germanwings flight 4U 9525 into a mountain in southern France on March 24, 2015 and killing all 150 people onboard, including himself, in the worst air disaster in Europe in recent history.
Photo: Getty Images
A new report released by French authorities reveals that Andreas Lubitz, the Germanwings co-pilot whom they believe deliberately crashed a jet on its way to Dusseldorf, may have practiced the fatal descent on an earlier flight.
During an outbound flight to Barcelona, Lubitz reportedly set the plane's altitude to 100 feet on several occasions when the co-pilot left the cockpit, the same maneuver he later used to crash the Airbus320 into the Alps, killing all 149 people aboard. Though he practiced the move repeatedly during that earlier flight, Lubitz did so only for short spurts of time so that it would go undetected by air-traffic controllers.
The report's findings indicate that Lubitz's actions were purposeful, stating that he "intentionally modified the autopilot instructions to order the airplane to descend until it collided with the terrain."