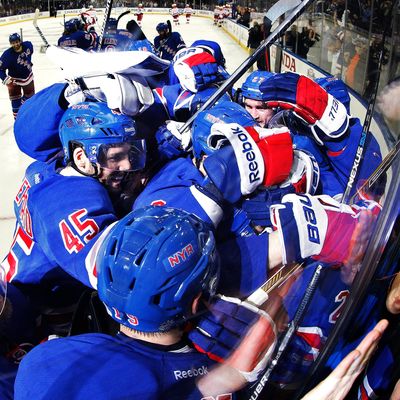 The Rangers celebrate their Game 7 overtime win on Wednesday night.
Photo: Bruce Bennett/Getty Images
On Wednesday night, the Rangers beat the Capitals in overtime of Game 7 to punch their ticket to the Eastern Conference Finals for the second straight year and the third time in four years. They'll face the Tampa Bay Lightning, with Game 1 at Madison Square Garden set for tomorrow at 1 p.m. When the Rangers made their run to the Stanley Cup Final last season — it was their first appearance in the championship round in two decades — their bandwagon was crowded with fans who only started paying attention as the postseason progressed. You may have even been one of them! And so if you're looking to jump on again this year, here's a primer to get you ready.
How'd they get here?
In their second year under head coach Alain Vigneault, the Rangers had the best record in the NHL, and set franchise records for wins (53) and points (113). A deep, well-balanced team that was among the leaders in both goals for and goals against, they opened the playoffs by defeating the Pittsburgh Penguins in five games. But in the second round, they found themselves down three games to one against the Capitals and were 101 seconds from being eliminated in Game 5 when they rallied to tie that game and then win it in overtime. They then survived a heart-stopping Game 6 in Washington, and won an even more tense Game 7 at Madison Square Garden thanks to Derek Stepan's series-ending overtime goal. They became the first NHL team to rally back from a three-games-to-one series deficit in consecutive seasons, and they've now won ten straight elimination games on home ice.
Are these the same guys I watched when I jumped on the bandwagon last year?
For the most part, but there are some new faces to complement the core that was already in place. Most notable, rookie Kevin Hayes has been a welcome addition to their offense, and they've added two new defensemen — Dan Boyle and Keith Yandle —in an attempt to get more scoring from their blue line. Those two are frequent targets of criticism from Rangers fans, in case you're looking to fit in by shouting things at the TV in the bar. (Boyle's status for the next round is unclear at the moment, as he left Game 7 following a hard hit from Washington's Brooks Orpik.)
What are some story lines I should know?
• The Rangers and Lightning swapped captains last season in a blockbuster trade, with Ryan Callahan going to Tampa Bay and veteran Martin St. Louis coming to New York. Callahan is recovering from an appendectomy earlier this week, but there are other familiar faces on the Lightning roster: Former Rangers Brian Boyle and Anton Stralman signed with Tampa Bay last off-season.
• NHL postseason games are usually pretty tense, but the Rangers have taken it to a whole new level lately: They've played in a record 14 straight playoff games that have been decided by one goal, including every one so far this year. This chart, made by a Rangers fan who tracked his heart rate over the course of Game 6, pretty well sums up what it's like to watch this team right now.
• The Rangers are playing without one of their most important offensive players: winger Mats Zuccarello, who hasn't played since Game 5 against Pittsburgh after being hit in the head with a shot. He's out with what's widely assumed to be a concussion, and there's no timetable for his return right now.
• Henrik Lundqvist, the Rangers' franchise player and all-world goaltender, has been spectacular in these playoffs, and with the win Wednesday, he tied an NHL record with his sixth career Game 7 victory. Lundqvist missed 25 games this year with a scary vascular injury in his neck, but he's playing as well as he ever has right now.
• Rick Nash, the Rangers' most skilled goal-scorer, was criticized last season for tallying just three goals in 25 postseason games. He had a great regular season this year, scoring a career-best 42 goals, but he's struggled again to find the back of the net in these playoffs. He's actually doing a lot of other things well, generating scoring opportunities and playing responsible defense, but his goal in Game 6 against Washington was just his second of the postseason. His production will be much-discussed in the conference finals.
So what can I expect in the next round?
The Rangers like to play an uptempo style that's fun to watch when executed properly, but the high-scoring Lightning, who finished second in their division and knocked off the Canadiens in the previous round, thrive under similar circumstances. The Rangers' advantage is in goal prevention: They have perhaps the deepest defensive corps in the league, as well as the best goalie going right now. For what it's worth, the Lighting owned the Rangers in the regular season, winning all three meetings. (Their best player, Steven Stamkos, burned the Rangers for two goals and five assists in those three games.) But all of those games happened early in the season, before the Rangers hit their stride in mid-December.