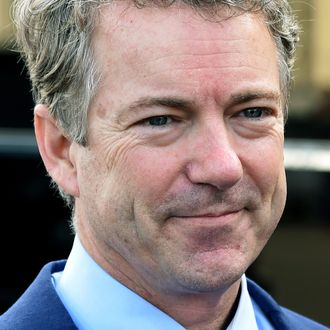 Photo: Ethan Miller/Getty Images
Celebrity tabloid Us Weekly has scored the scoop of the century: an exclusive interview with Rand Paul, in which the presidential hopeful shares 25 facts about himself. Among them? He loves root-beer floats! He used to collect old coins with his grandmother! Oh, and did we mention a bald eagle lives near him? If this guy doesn't get voted into office, I'm gonna forget to send in my absentee ballot in 2020, too.
Here's an annotated guide to Rand's 25 facts (annotations are in italics).
1. My wife [Kelley, 51] and I met at an outdoor oyster roast in Atlanta. At first, she thought I was much younger than I actually was and she gave me the cold shoulder. Eventually she realized that I was 26 years old, and we hit it off!
But I still don't support Equal Pay.
2. As a child, I loved to collect old coins with my grandmother. 
The only good thing the Fed ever did.
3. The same grandmother inspired me to become an ophthalmologist. As her vision began to fade, I became her eyes when we inspected mint marks on coins. 
Sadly, I was diagnosed with a rare disorder that left me partially color blind; I can now only see the colors red, white, and blue.
4. I am the father of three: William, 22, Duncan, 19, and Robert, 16. When they were little kids, I loved coaching their soccer, baseball, and basketball leagues. 
Please do not Google William.
5. My son turned me on to Sundy Best, a country duo from Prestonsburg, Kentucky. Check them out!
It's like Sunday, but without the a, so it's more authentic.
6. As you have probably heard by now, I am my own barber. In fact, I cut my own hair on my wedding day, which is evident in our wedding photos.
 I also sew my own turtlenecks!
7. Mostly I watch the news, but I do like reruns of The Twilight Zone. 
I have discovered no noticeable difference between the two.
8. I grew up swimming and, as a teenager, I taught swim lessons to make extra spending money. 
Spending money that I kept in an undisclosed location, far away from banks.
9. I was a collegiate swimmer at Baylor University. I still enjoy swimming as a way to keep in shape. 
You hear that, Christie?
10. I studied hard and scored high enough on the MCATs to be admitted to Duke University's medical school without a bachelor's degree. 
Work hard, play hard.
11. Some would say I have a green thumb. I love working in the yard on my days off. Mowing the lawn is very therapeutic for me.
I am basically a farmer, Iowa. 
12. Each summer, members of Congress host a congressional baseball game to raise money for charity. I have played on the Republican team every year since I have been in office. My position: outfield!
I am all by myself in the Republican Party but hope one day someone hits the ball to me.
13. I'm not an expert stargazer, but I can recognize many of the constellations and am always interested to see the next eclipse. 
I also enjoy keeping watch for any drones that may be hovering above my house to collect my private information, because if they crash, I can run over them with my lawnmower, which is very therapeutic.
14. I planted a cherry tree in our front yard in Bowling Green, Kentucky, from seeds that came from the cherry trees along the Tidal Basin in Washington, D.C.
I am a founding father re-enactor and will legislate accordingly.
15. Before I ran for office, I was an ophthalmologist in Bowling Green. I still conduct pro bono surgeries in Kentucky and abroad. Last year, I went to Guatemala. This year, I'll travel to Haiti. 
Basically, I'm as well-traveled as Hillary.
16. My given name is Randal. Kelley started calling me Rand, and it stuck!
Randal means "I have memorized the entire Constitution" in Gaelic.
17. My favorite drink? Root beer float. 
It is basically the food equivalent of working across the aisle to create awesome legislation.
18. I am responsible for cooking the Thanksgiving Day turkey. I have a special recipe that involves placing fresh herbs under the skin, covering the turkey in cheesecloth, and basting it in Madeira wine and butter. It's a labor of love. 
It's especially delicious after indulging in some state-sanctioned medical marijuana.
19. I love biking. On a weeknight, you can find me biking around our neighborhood. It's a great way to unwind. 
Also good for the environment, IF global warming exists.
20. There's a bald eagle that lives in a high nest across the pond from my backyard. 
You hear that, America? A bald freakin' eagle. Nature is practically begging me to be president.
21. A rare hobby of mine: composting! Because of my composting, I guess I qualify as a "crunchy-con."
Feel free to vote for me, Democrats.
22. I am the author of three books: The Tea Party Comes to Washington, Government Bullies, and Taking a Stand. 
Perhaps I will read through them during my next filibuster. 
23. My favorite book is The Brothers Karamazov by Fyodor Dostoyevsky. 
LOL you thought I was gonna say Atlas Shrugged.
24. Growing up, my parents did not enforce a curfew. They believed excessive rules can have unintended consequences. 
Do I really need to explain this? I'm laying it right out there for you.
25. One thing I never travel without: my Ray-Ban sunglasses. It's important to protect your eyes from the sun.
If I don't win the Republican presidential nomination, I would make a great vice-president.