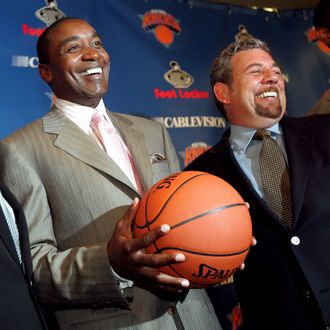 Isiah Thomas and Jim Dolan.
Photo: Ron Antonelli/NY Daily News Archive via Getty Images
Knicks fans have long feared that Jim Dolan would bring Isiah Thomas back into the organization in some capacity, since the two have remained friends since his official departure in 2008. That hasn't happened (yet), but today Madison Square Garden announced that Thomas has been hired as president of the WNBA's New York Liberty, and that he'll also take an ownership interest in the team. In a statement, Dolan said Thomas has been advising the team since the fall, and that "Now, we've agreed that it is time for him to take a lead role with the team as president, and through his ownership interest. He's an excellent judge of talent, and I'm confident that he will put all of his energy and experience into making the Liberty a perennially competitive and successful team." It's hardly the first time, however, that Dolan has shown that he has Thomas's back, no matter how much it infuriates New York fans. Here, a brief history of Dolan standing by Thomas.
2003
Dolan hires Thomas to replace unpopular team president Scott Layden. "This is the thing we could do right now to most help the team," said Dolan at the time. "That's the bottom line of it."
2004
After Thomas makes several personnel changes, including firing coach Don Chaney, Dolan defends his president's moves. Dolan said that he approved of Thomas's decisions, saying, "It's been a busy few weeks here since we brought Isiah onboard. I do want to say today that Isiah has my full support in all the changes he's made."
2007
A jury finds that Madison Square Garden and Thomas sexually discriminated against a former female executive. The Garden was ordered to pay $8.6 million to the employee, Anucha Browne Sanders, and Dolan was ordered to pay $3 million for firing her in retaliation for formally complaining about the harassment. Thomas, who Browne Sanders claimed repeatedly called her a "bitch," was not ordered to pay damages. In a statement after the verdict, the Garden said, "We look forward to presenting our arguments to an appeals court and believe they will agree that no sexual harassment took place." (Later that year, at the "strong request" of the NBA, the Garden settled with Browne Sanders for $11.5 million, or $100,000 less than the damages the jury awarded. As part of the settlement, the Garden, Dolan, and Thomas were prevented from appealing, and Browne Sanders was precluded from pursuing punitive damages against Thomas.)
2008
After Dolan hired Donnie Walsh to replace Thomas as team president, the owner said that it was his "preference" for Walsh to keep Thomas on as the team's coach. (Walsh wisely did not do so.)
2010
Two years after Thomas left the organization, Dolan stunned Knicks fans by announcing that he'd be returning to the organization as a consultant. "Isiah Thomas brings unique experience as a Hall of Fame player, coach, executive and owner, and we believe having him as part of our organization will be extremely beneficial to the team's success," said Dolan and Walsh in a joint statement that had the owner's fingerprints all over it.
2010, less than a week later
After the NBA nixed the idea of Thomas returning as a consultant because he was employed at the time as the head coach of Florida International University, Dolan said that he would nevertheless "solicit his views," adding that Thomas "will always have strong ties to me and the team."
2013
In an interview with the New York Post, Dolan says that he still speaks to Thomas and believes he deserves another shot, though it would have to be elsewhere. From the interview:
Do I think he deserves another shot? Yeah. It just can't be here. And I think he's talented. I think he's particularly talented at finding basketball talent. But I think he's probably dismayed at this point. But I don't see him coming back to New York. I couldn't do that to him, and I couldn't do that to the organization. He would probably do it as my friend but I couldn't do it to him or his family. And you know what the press would do here. We're interested in getting better and that situation would be such a distraction that it would actually hinder our ability to get better.
2015
After Thomas is hired to run the Liberty, a women's basketball team, many immediately bring up the Browne Sanders trial. The Garden releases the following statement: