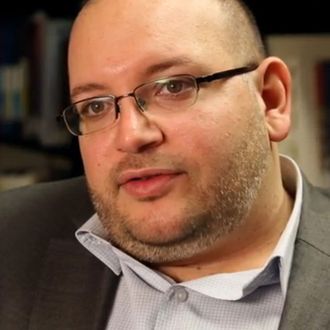 Jason Rezaian.
Photo: Zoeann Murphy/The Washington Post via Getty Images
The Washington Post's bureau chief in Tehran, Jason Rezaian, has been imprisoned in Iran for nearly ten months. The Iranian government has been taciturn when it comes to explaining why they have decided to charge the Iranian-American reporter — who has dual citizenship — with "espionage, collaboration with hostile governments, gathering classified information and disseminating propaganda." The two main pieces of evidence against him are an American visa application for his Iranian journalist wife and a letter from soon-to-be President Obama's transition team in 2008. 
Rezaian's trial began on Tuesday, and is closed to the public. An editor at the Post — as well as Rezaian's mother and wife — unsuccessfully attempted to attend. Abolghassem Salavati, the judge dealing with the high-profile case who is often called the "judge of death," was admonished internationally for human rights abuses, and has been known to sentence anti-government protesters to death. 
"There is no justice in this system, not an ounce of it," the Post's executive editor said in a statement yesterday, "and yet the fate of a good, innocent man hangs in the balance. Iran is making a statement about its values in its disgraceful treatment of our colleague, and it can only horrify the world community."
Rezaian's situation has been a point of contention in the already-fractious nuclear negotiations with Iran. The White House and State Department have mentioned the case in public remarks and during the talks. 
Iranian Foreign Minister Mohammad Javad Zarif, who has become one of the crucial voices in the nuclear negotiations, said in April, "It is unfortunate that some over-zealous, low-level operative tried to take advantage of him. And I don't go into further detail because it's a pending case before the court. And I hope that he will be cleared of that charge."
Today's proceedings have ended, and it is not clear when the trial will resume.