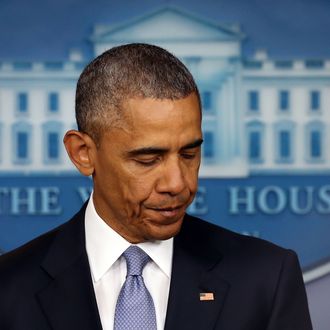 Photo: Mark Wilson/Getty Images
President Obama made his inaugural visit to Twitter this week, and instead of being on their best behavior, Twitter users continued to behave as the racist, awful people they usually are. Great job, everybody!
The Times reports that moments after sending out his first tweet, the president was subjected to the types of graphic racism that minority users are forced to grapple with every day. One user even sent Obama a Photoshopped picture of the president hanging from a noose, accompanied by the phrase, "we need 'ROPE FOR CHANGE.'" We look forward to the Secret Service showing up at that guy's house.
Twitter wasn't the only Internet platform that showed the president its ugly side this week, though. On Tuesday, the Huffington Post reported that if you input the phrase "n—- house" into Google Maps, it immediately directed you to the White House. Google apologized yesterday for the offensive results, but didn't explain what caused them.
Cool post-racial society we have here, huh?