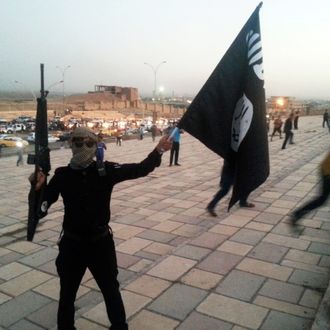 On Saturday, American officials announced that an ISIS leader had been killed in Syria by United States Special Operations forces. The Associated Press reports that the U.S. National Security Council described the militant, who went by the name Abu Sayyaf, as a "senior [ISIS] leader who, among other things, had a senior role in overseeing [ISIS's] illicit oil and gas operations — a key source of revenue that enables the terrorist organization to carry out their brutal tactics and oppress thousands of innocent civilians." As NBC News notes, "The mission is the first known American commandos operation inside Syria outside of a failed attempt to rescue hostages held by ISIS last year."
The Defense Department told the New York Times that Sayyaf "tried to engage" American Delta Force commandos before he was shot. Meanwhile, the U.S. troops exchanged fire with a group of ISIS members, at least a dozen of whom were killed. (No Americans were injured.) The soldiers also reportedly captured Sayyaf's wife, identified as Umm Sayyaf, and rescued an 18-year-old Yazidi woman who, according to the White House, "appears to have been held as a slave" by the couple. From NBC:
Umm Sayyaf is being held in Iraq and will be secluded from other prisoners, officials told NBC News. She is accused of being "directly complicit in (ISIS) activities, specifically human trafficking," an official said.

The White House's National Security Council confirmed Umm Sayyaf is being "debriefed."

"We are also working to determine any information she may have regarding hostages — including American citizens who were held by (ISIS)," spokeswoman Bernadette Meehan said in a statement.
Strangely, it seems that Syrian president Bashar al-Assad also claimed to be responsible for Sayyaf's death. From the AP:
Syrian state TV earlier reported that Syrian government forces killed at least 40 IS fighters, including a senior commander in charge of oil fields, in an attack Saturday on the Omar field. The Syrian report, which appeared as an urgent news bar on state TV, was not repeated by the state news agency. State TV didn't repeat the urgent news or elaborate on it.
Meehan strongly denied that Assad had been involved in the mission. "The U.S. government did not coordinate with the Syrian regime, nor did we advise them in advance of this operation," she said. "We have warned the Assad regime not to interfere with our ongoing efforts against [ISIS] inside of Syria. As we have said before, the Assad regime is not and cannot be a partner in the fight against [ISIS]. In fact, the brutal actions of the regime have aided and abetted the rise of [ISIS] and other extremists in Syria."