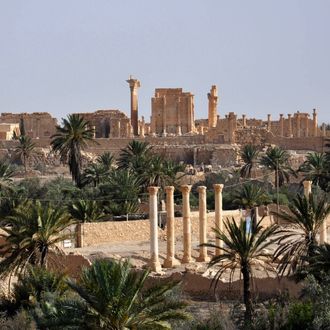 ISIS seized the airport, intelligence headquarters, and a major prison on the outskirts of Palmyra on Thursday, taking away a major city under control of Syrian government forces for the first time. Islamic State militants now control about half of Syria.
As one resident told CNN, "They are everywhere."
The city, which typically contains around 50,000, has seen a population boost as people fled other battle zones to safety. Photos of dead bodies in the streets have been circulated, and activists inside the city say civilians have not been evacuated — and that many pro-government forces had fled the city. Another 100 soldiers were killed.
The safety of the city's ancient ruins are also in question, given ISIS's practice of smashing priceless artifacts. Unesco's director-general, Irina Bokova, said that if the archaeological site were destroyed it would be "not just a war crime but … an enormous loss to humanity." Many of Palmyra's treasures had been moved before ISIS arrived, but plenty remain.
The 2,000-year-old ruins have not been disturbed yet. 
The Syrian government began emptying out some of Tadmor Prison, what the New York Times calls "Syria's equivalent of Abu Ghraib," before the city fell, perhaps anticipating the outcome. Palmyra also sits near major reserves of oil and gas, which could help ISIS become even more powerful — or at least richer.
Earlier this week, ISIS took control of Ramadi, a city in Iraq's Anbar Province. A State Department official told CNN of the development, "This is a very serious situation. No one is kidding themselves about that."
Meanwhile, back in the United States, many have begun wondering if the current air-strike strategy against ISIS is working. Others, mostly those running for the Republican presidential nomination, have just gone right to the White House blaming. As the Washington Post pointed out yesterday, however, the complaints have "leaned on fiery rhetoric over specific proposals." The article specifically referred to a statement Rick Santorum made in Iowa. 
They want to bring back a 7th-century version of jihad. So here's my suggestion: We load up our bombers, and we bomb them back to the 7th century.